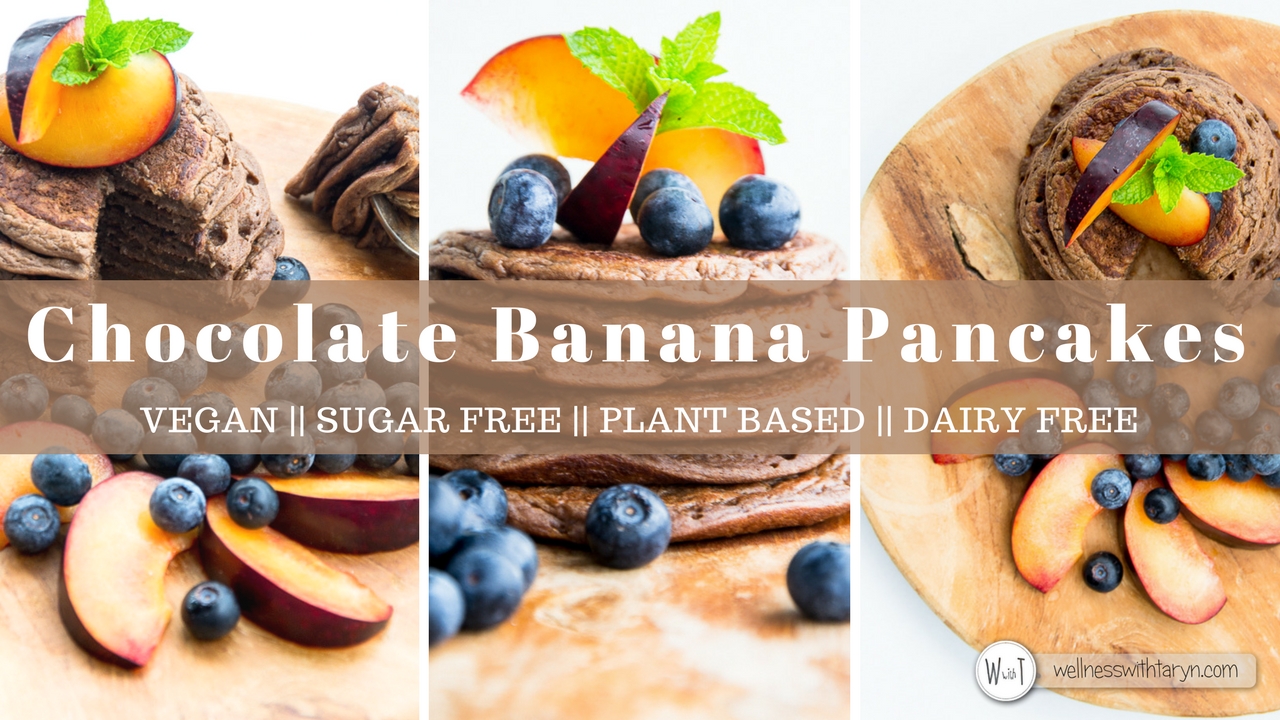 Mornings have to be one of my favorite times of the day, especially when they involve pancakes! For the majority of the time, I tend to have easy stuff for breakfast, like smoothies, smoothie bowls, porridge or granola/muesli, but occasionally I'll sneak in a "treat breakfast", and recently it was these tasty Chocolate Banana Pancakes.
These pancakes are pretty easy to make. It's just a matter of throwing all the ingredients into your blender or nutribullet, blending and then there you have it – perfect plant based pancake batter, ready to go.
You can add more sweetener if you're sweet tooth requires, and serve them with whatever you please. I decided fresh fruit would be scrumptious – fresh blueberries and a perfectly ripe plum, topped with a sprig of fresh mint from the garden.
The pancakes themselves are moist and flavorful. Cooked on one side until little bubbles form excitedly, flipped perfectly without sticking, and served beautifully on a plate filled with vibrant color. I love fresh fruit in the morning, and what better to accompany it than these ever-so-moreish chocolate pancakes.
Health Benefits of Cacao
Raw cacao powder contains more than 300 different chemical compounds and nearly four times the antioxidant power of your average dark chocolate – more than 20 times than that of blueberries. Protein, calcium, carotene, thiamin, riboflavin, magnesium, sulfur, flavonoids, antioxidants, and essential fatty acids are also present. The precise blend of all these elements combined serve to kick in naturally occurring phytochemicals that have incredible benefits throughout the body, such as lowered LDL cholesterol, improved heart function, and reduced cancer risk.
Phenethylamine, or PEA, is one of them. Large doses of this compound are said to be released into the brain when we're attracted to someone, but natural pain- and stress-relieving chemicals known as neurotransmitters stimulate the secretion of endorphins to help us stay alert and focused. Source
Which means it's a perfect Superfood to have in the morning which is when we tend to get the majority of our 'things' done and have the highest concentration levels. Quick, easy and mess free, these are that and so much more!
Chocolate Banana Pancakes
This recipe is quick, easy and only uses a few ingredients. Made easily with no fuss or mess in your blender or Nutribullet, it's the perfect nutritious and delicious breakfast option.
Course:
Breakfast, Pancakes
Cuisine:
American, Pancakes
Ingredients
1/4

Cup

Ancient Grains Mix or Breakfast Oats

2

TBS

Gluten Free Self Raising Flour Mix

1

Tsp

Baking Powder

1/4

Tsp

Bicarbonate of Soda

1

Small

Banana

1/2

Tsp

Ground Golden Flax

1

Tsp

Organic Raw Cacao

1-4

Tsp

Organic Coconut Sugar

Depending on your sweet tooth

1/2

Cup

Oat Milk

Or nut milk of your choice

1/2

Tsp

Organic Cold Pressed Olive Oil

or Organic Cold Pressed Coconut Oil
Instructions
Add all ingredients into your blender or nutribullet

Cook pancakes on a medium heat, and pour batter depending on the size of pancakes you'd like. The smaller they are the quicker they cook and easier they are to flip.

Once little bubbles begin to form all over on one side, you'll know it's time to flip.

Cook until golden brown on either side

Serve with fresh fruit, like blueberries, fresh plums, fresh mint
Recipe Notes
Always use Organic wherever possible
Support your local businesses wherever you can
I hope you enjoy this recipe as much as I did. How do you like to have your pancakes? Have you tried chocolate pancakes before or do you prefer the standard 'vanilla'? What are your favorite toppings? Leave a comment below because I'd love to know.