This recipe is a Moroccan twist on a Quinoa salad. It is super easy, really quick, and perfect for lunch the next day! I often make a big batch of dinner, and have it for lunch the next day. It saves time in the morning, plus most meals taste amazing the next day.
I love quinoa, and adore how versatile it is. You can literally toss a couple of your favorite ingredients into a quinoa salad and I'm 99% certain each time it'll turn out great! It definitely is a staple in my pantry, and forever on my shopping list.
Now not only is quinoa super tasty, somewhat unpronounceable to the layman (Keen-wah), it is surprisingly incredible good for you and hosts a powerhouse of nutritional benefits. It's funny name, and odd shape is bursting with an array of vital nutrients, especially to us vegetarian/vegan/health nuts who don't consume flesh.
Quinoa is a good source of an array of B vitamins as well as vitamin E, A, and K. It also contains the minerals potassium, folate, iron, magnesium, phosphorus, and zinc. Surprisingly it contains a fair amount of calcium, therefore useful for vegans and those who are lactose intolerant. It is packed with fiber, is gluten free, and contains all 8 amino acids, though there is some skepticism of it being labeled a complete protein.
There are 3 main types of quinoa, red, white and black. It is quite a fluffy texture once cooked, and has quite a nutty flavor.
One cup of quinoa generally yields around three cups when cooked, and to cook one cup, you'd use two cups of liquid (water). Quinoa has a natural external coating, called saponin. This tends to make the cooked grain taste bitter or soapy. It's therefore a good idea to give your quinoa a good rinse before cooking to get rid of this coating.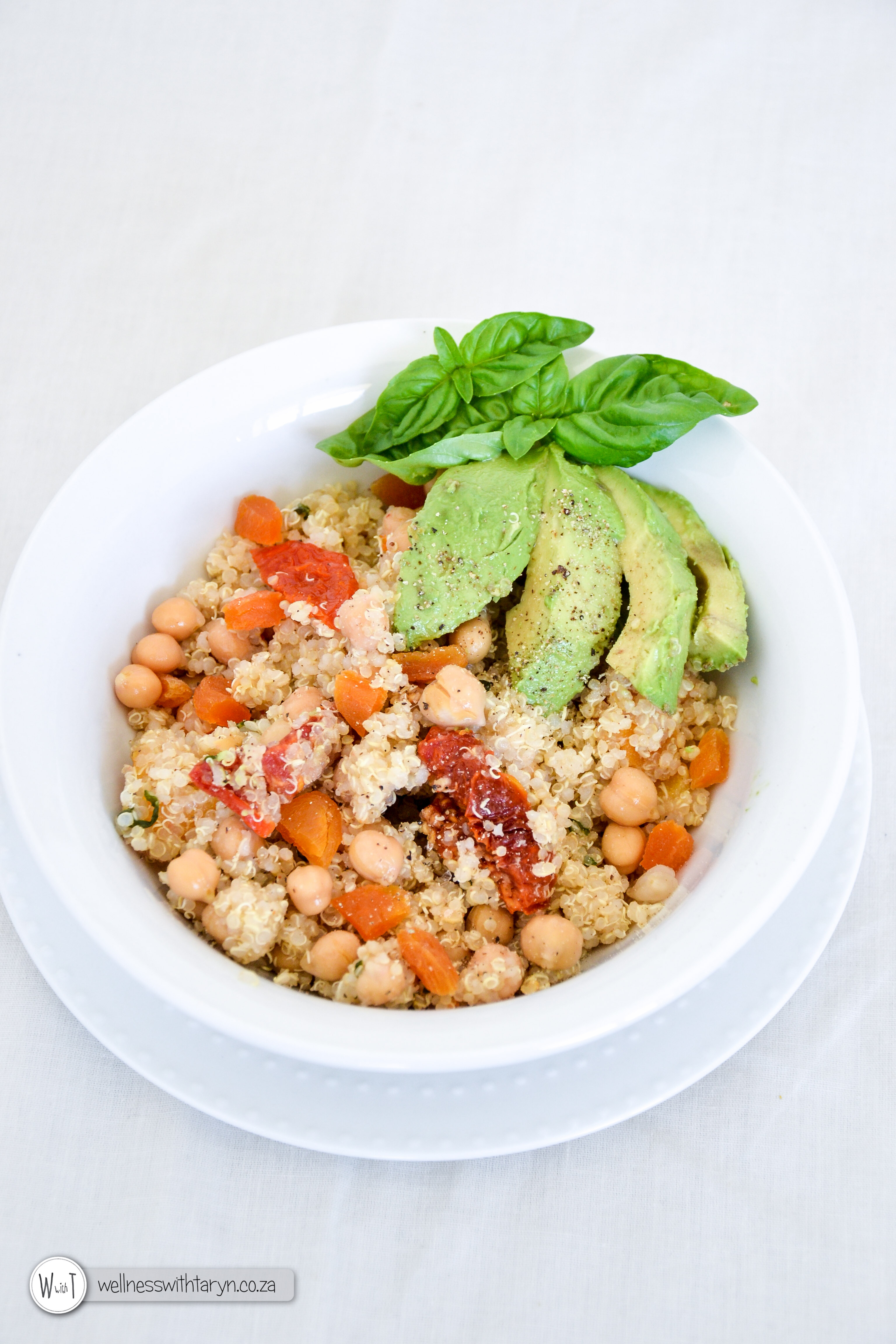 Ingredients
1/2 Cup White Quinoa (rinsed)
1 Tin of Organic Chickpeas (or your own pre-cooked chickpeas from raw)
1/2 Cup Chopped Dried Apricots
1/2 Cup Sundried Tomatoes (rehdrated with a little warm water)
1/2 Lemon (Juice)
1/2 Ripe Avocado
2-3 Leaves Fresh Basil
1 Cup Water (Vegetable Stock Optional)
Himalayan Pink Rock Salt
Ground Black Pepper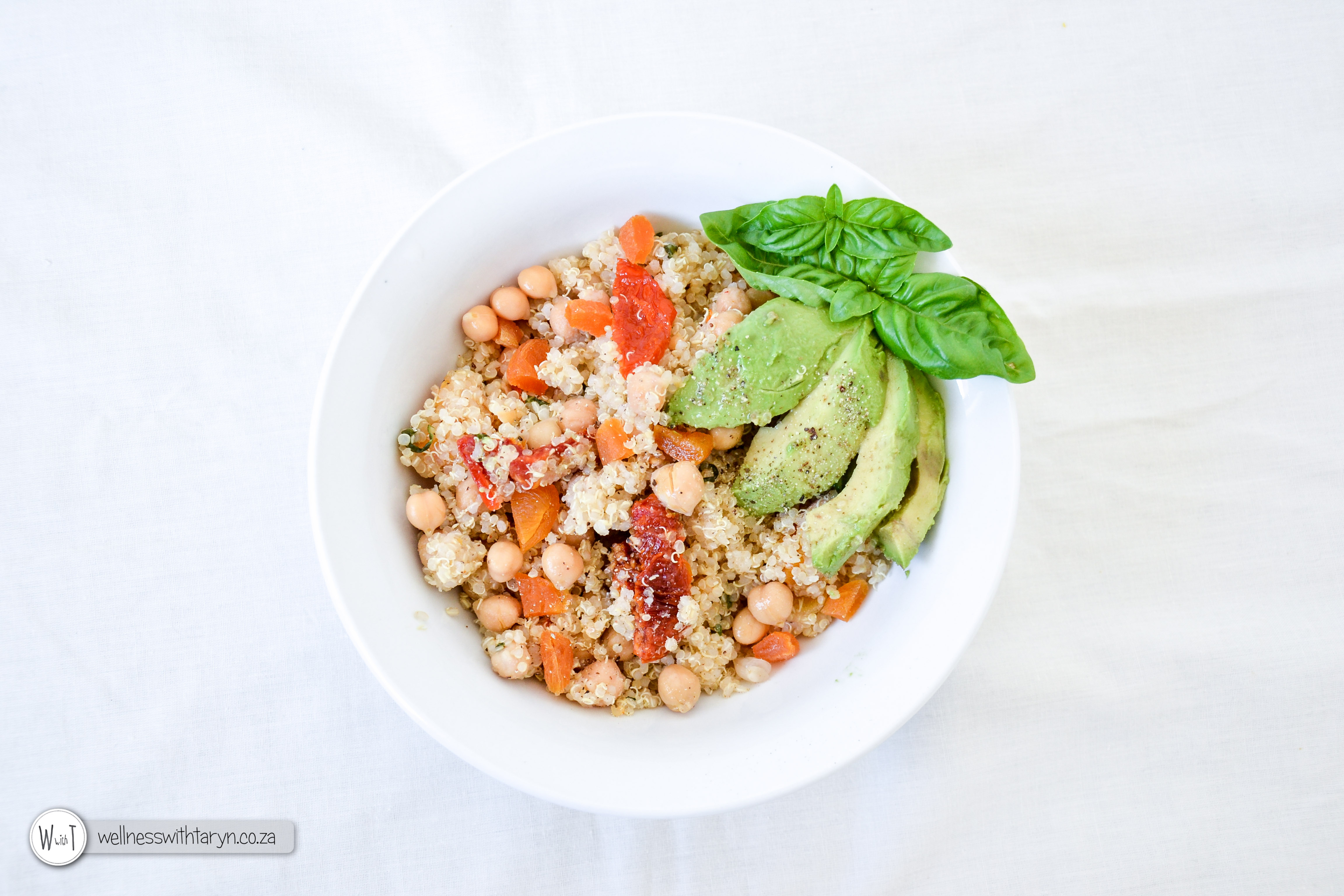 Recipe
To begin you'll want to cook your quinoa, and as I said previously for one cup of quinoa, you'd use two cups of liquid (water). After rinsing, place the quinoa into a pot with 1 cup of simmering water. You have the option here to add some vegetable stock powder, to flavor the quinoa, but for this recipe I have just used water, and a pinch of salt. On a medium heat, the quinoa will begin to cook and absorb the water. The end result should be a fluffy textured pot of quinoa, with no liquid remaining. So it's not like cooking rice, where you drain the water out afterwards. It tends to cook and absorb all the liquid. If you find the quinoa is still a bit hard, and not fluffy enough, add a little more water and continue to stir. Bear in mind you will be adding a bit more water later on from the sun dried tomatoes.
Submerge the chopped sun dried tomatoes in some hot water to re hydrate, and add the chopped apricots and chickpeas to the quinoa, still on the stove. Once the tomatoes are soft, add them and the water they soaked in, into the quinoa pot and stir.
Add the lemon juice, stir and dish up 🙂 To finish it off, garnish with half an avocado, some fresh chopped basil leaves, salt and pepper to taste.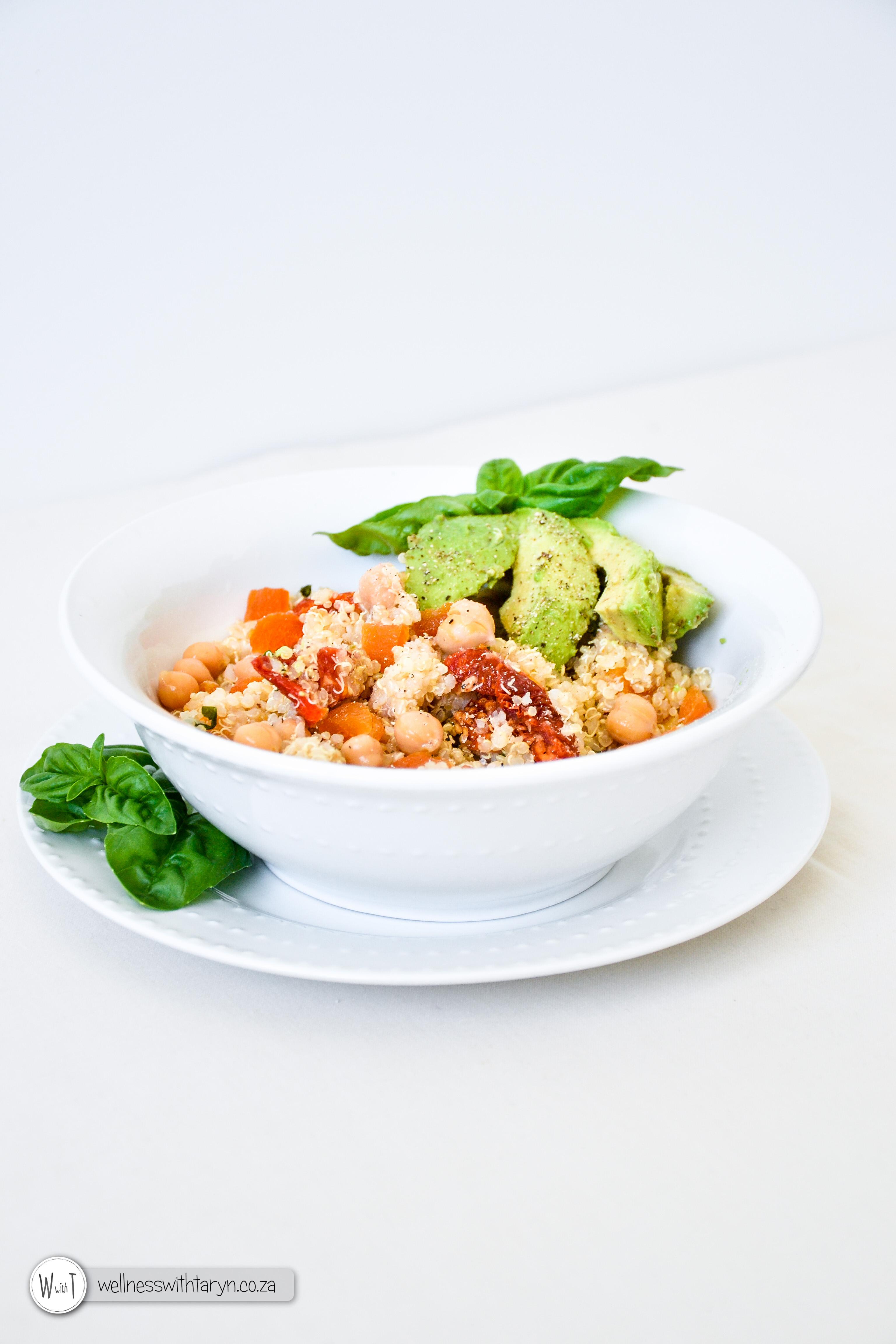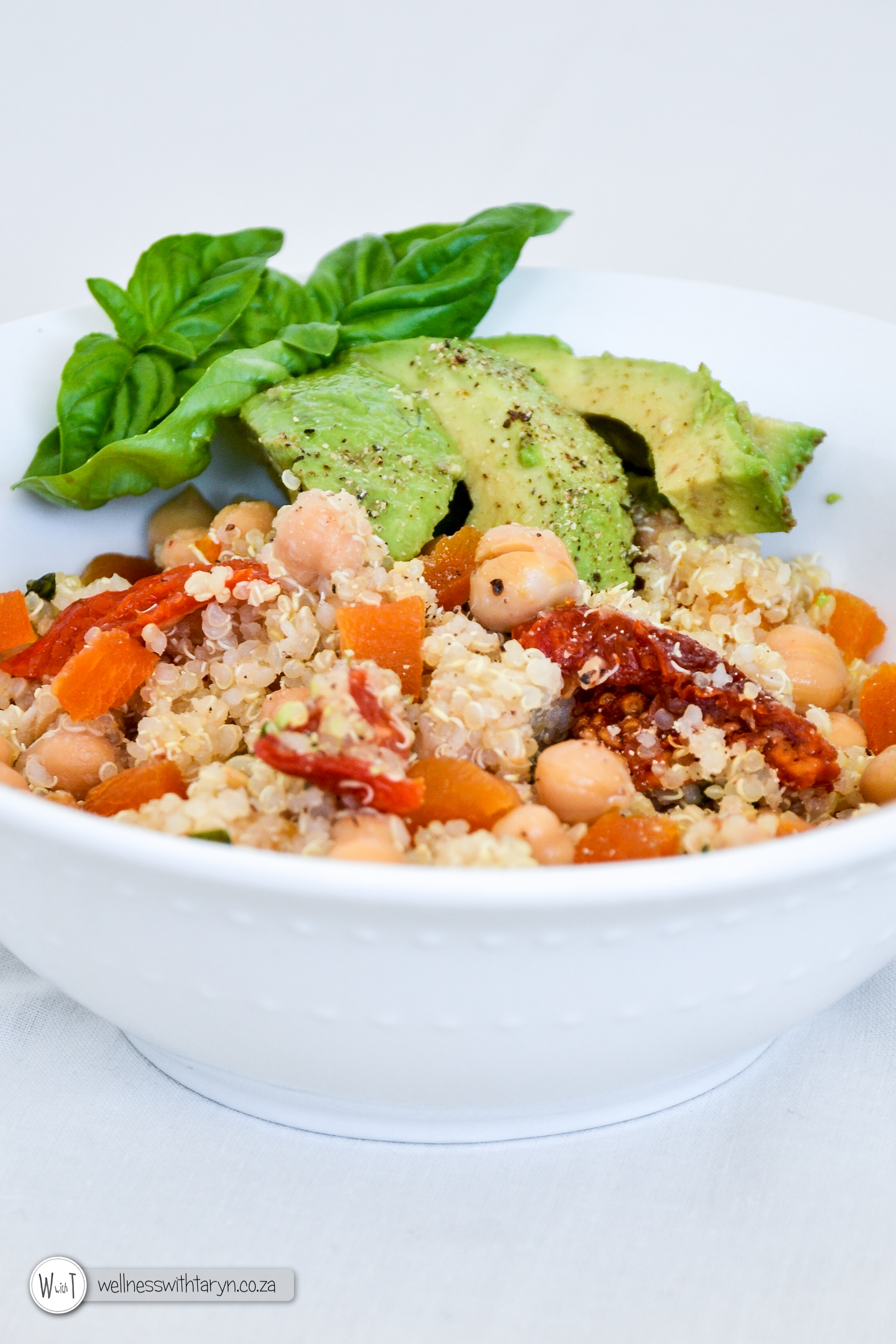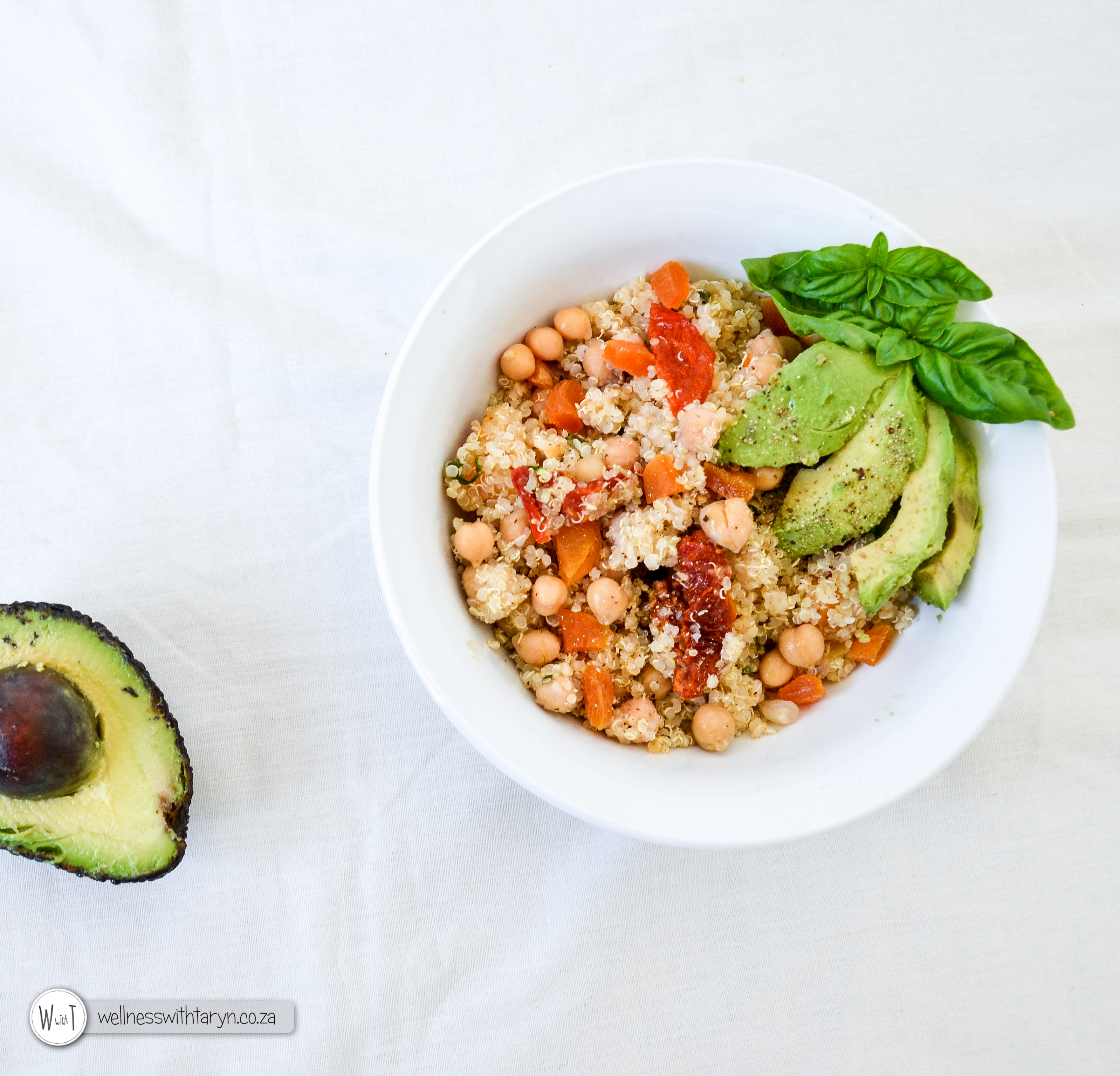 A delicious and healthy meal, that can satisfy any hungry tum.
If you liked this recipe, help to spread the wellness by pinning it, sharing it with your friends and family, or leave a comment below.