These days, with all the hype around the whirlwind of different diets/eating plans/lifestyle guides/'what-ever-you-want-to-call-them', it's hard for me to keep up, let alone the person who's tilting towards a healthier lifestyle and looking for a helpful guide. From vegan to raw vegan to vegetarian to paleo to banting to 80/10/10 to Raw til 4, this list carries on and on. Whether you're looking for a diet that suits a gluten intolerance, or are seriously considering refraining from eating animals, there are so many inspiring people out there with bucket of knowledge and helpful advice to suit your specific requirements. What I encourage my clients is to find what feels right for their body. Get to know yourself, and how certain foods react with you. Find what feels good. I promote plant based lifestyle that is free from refined sugar, gluten and processed foods. Keeping it natural and nutritious.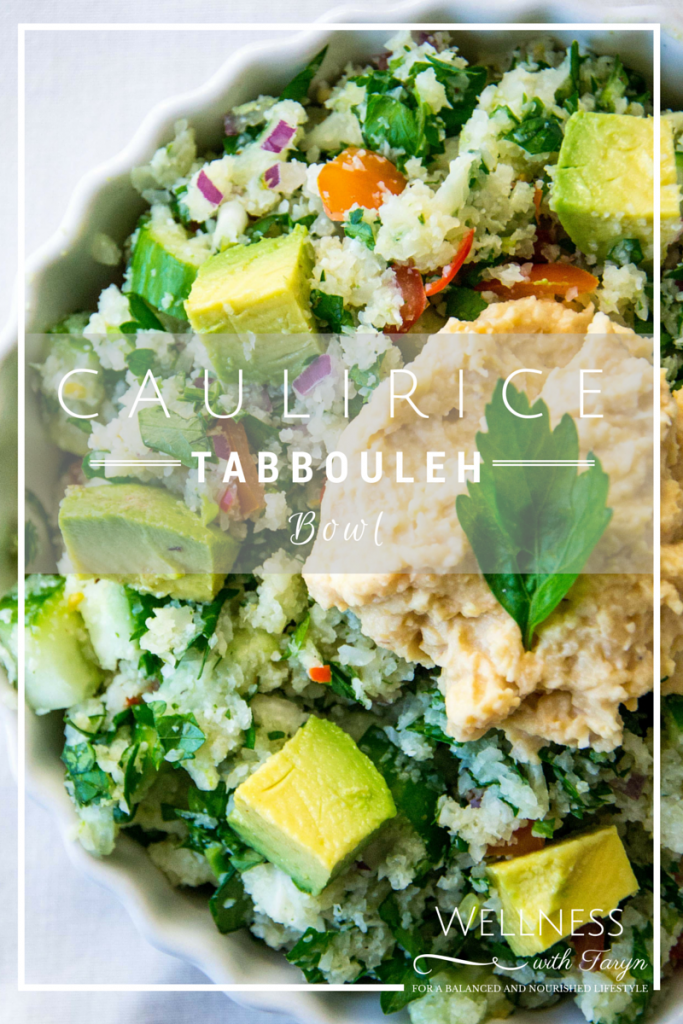 With that being said, I created this delicious dish, that is my take on the traditional Tabbouleh. This one, however, is grain and gluten free, accommodating those with gluten intolerance, paleo diets as well as the banting masses.
The cauiliflower is such a versatile cruciferous vegetable. I love finding a list of uses from a single veggie, it always leaves me with lots of options, which is great! So whether you make this dish, or a cauliflower pizza base, or a vegan cauliflower cheese, your humble little cauli can certainly do it all. Versatility at it's best! and nutritious, of course 😉
The trick with this dish, is try get the cauliflower as dry as possible. Slight moisture will lead to a soggy result, so to get the cauliflower as dry as possible, after rinsing and processing, place into a clean tea towl and try squeeze out any excess water.
As the cauliflower doesn't really have that much flavor, the fresh herbs in this dish really elevate it. The hint of heat from the chilli really rounds off the dish well, and the lime really compliments all the unique flavors. I added the creamy avocado, a subtle move to even out and really tie all the elements together. (And because it's delicious and I can't get enough of it 😉 ) The homemade chunky hummus adds a protein boost to the dish and you can find that recipe here.
Cruciferous vegetable are so good for you, cauliflower especially promoting cancer fighting properties as well as being loaded with anti-inflammatory nutrients. It is rich in vitamins and minerals and helps to boost not only brain but heart health too. It aids in the detoxification process, and is an important source of dietary fiber for digestive health. It's packed with vitamin C, beta-carotene, rutin, cinnamic acid, and much more. So much goodness in these little pale porcelain-like edible trees.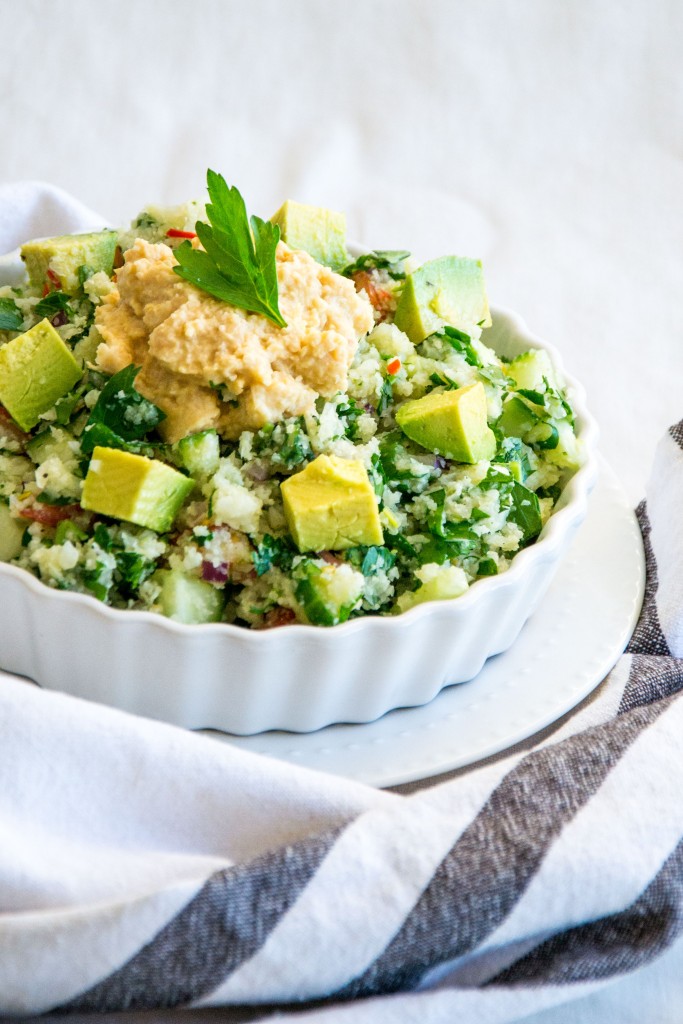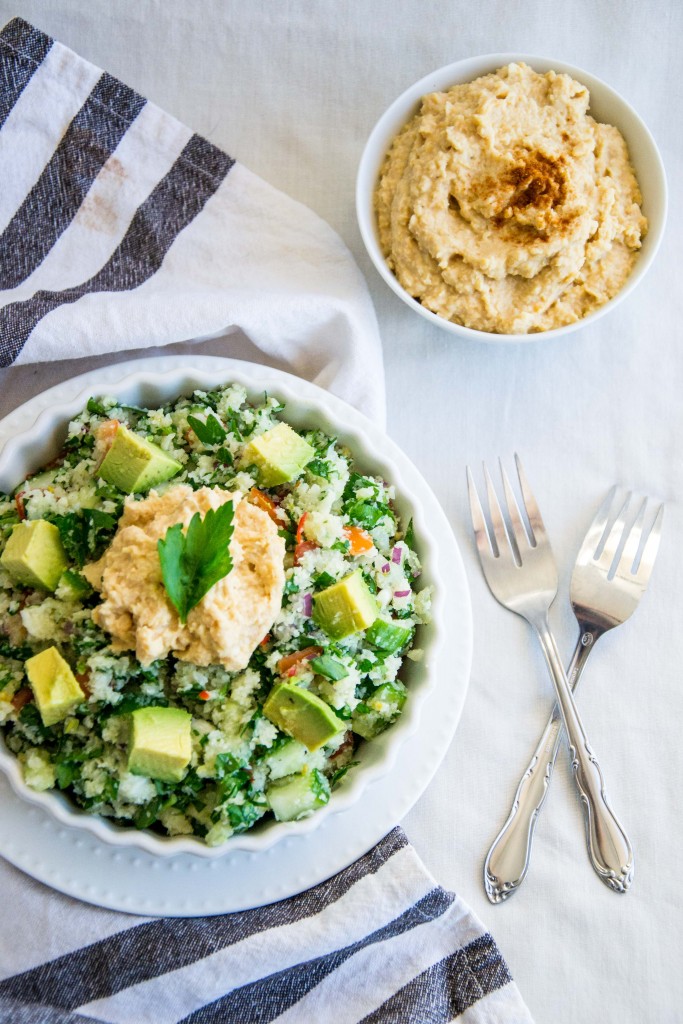 CauliRice Tabbouleh Bowl
2015-06-22 07:22:18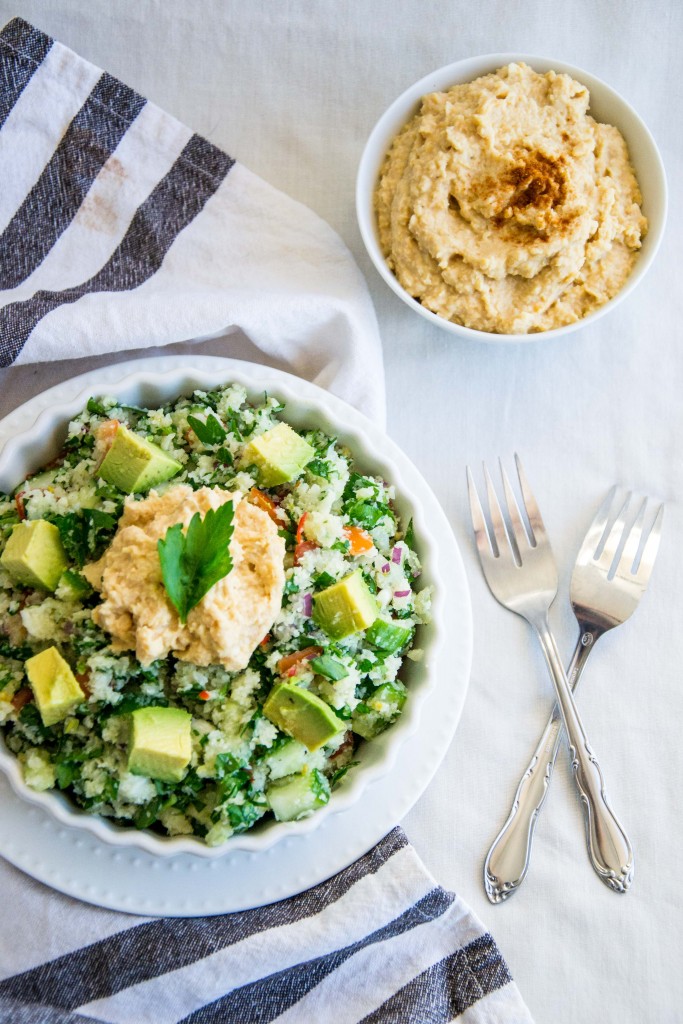 A delicious dish that is vegan, grain free, gluten free, paleo friendly, low carb and super tasty!
Ingredients
2 Cups Caulirice (Rinsed cauliflower florets processed in food processor, drained in clean tea towel until dry)
1 Clove Garlic (Finely diced)
1/2 Stock Cube (Crumbled)(Use 'clean' vegetable stock powder if you have-no sugar or preservatives)
1/2 Red Onion (Finely diced)
1/2 Red Chilli (Finely diced, pips removed if heat sensitive)
6 Cherry Tomatos ( Diced)
1/2 Cucumber (Diced)
1 Handful Fresh Corriander (Finely Diced)
3 Handfuls Fresh Parsley (Finely Diced - I used flat leafed)
1 Handful Fresh Mint (Finely Diced)
1 Lime - (Juice and Zest)
Salt & Pepper (To Taste)
1/2 Avocado (Diced)
Homemade Hummus (See blog for recipe)
Instructions
Chop up the cauliflower florets and rinse. Process for approx 20secs in a food processor, until the florets are rice size. Place blitzed mixture into a clean tea towel and squeeze, until all the moisture has been removed.
In frying pan, add the caulirice, garlic and crumbled stock cube. Stir until mixed, and the caulirice is warm. Don't over cook as it'll become quite soggy. Approx 5mins should be enough time.
Place warm caulirice into a large mixing bowl and add the remaining ingredients, except the avocado. Mix thoroughly.
Serve with diced avocado and fresh homemade chunky hummus.
Wellness with Taryn http://wellnesswithtaryn.com/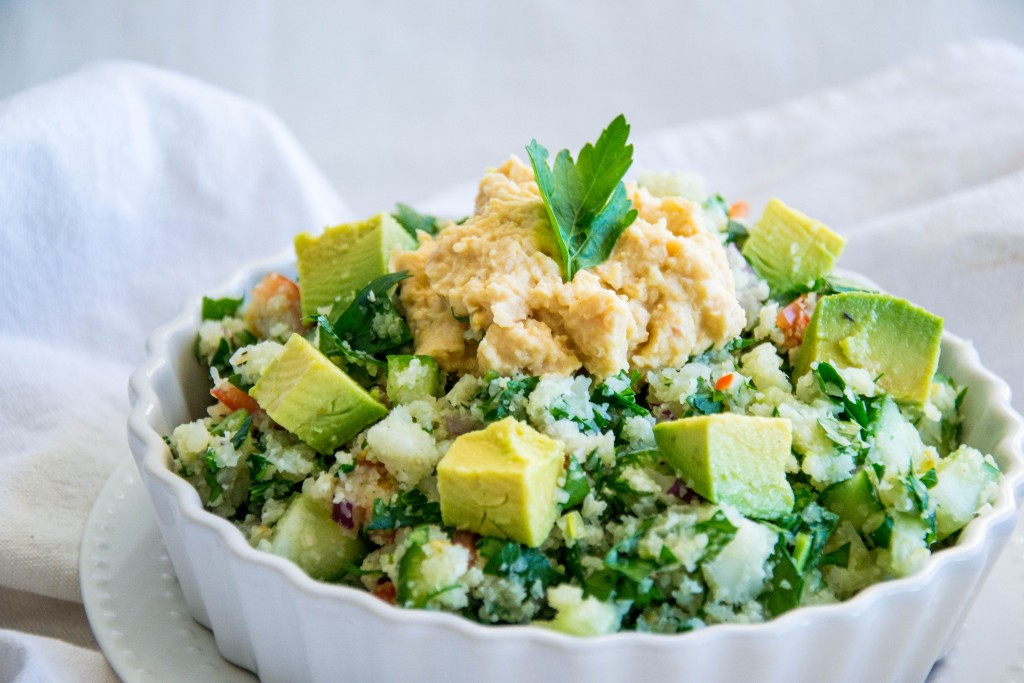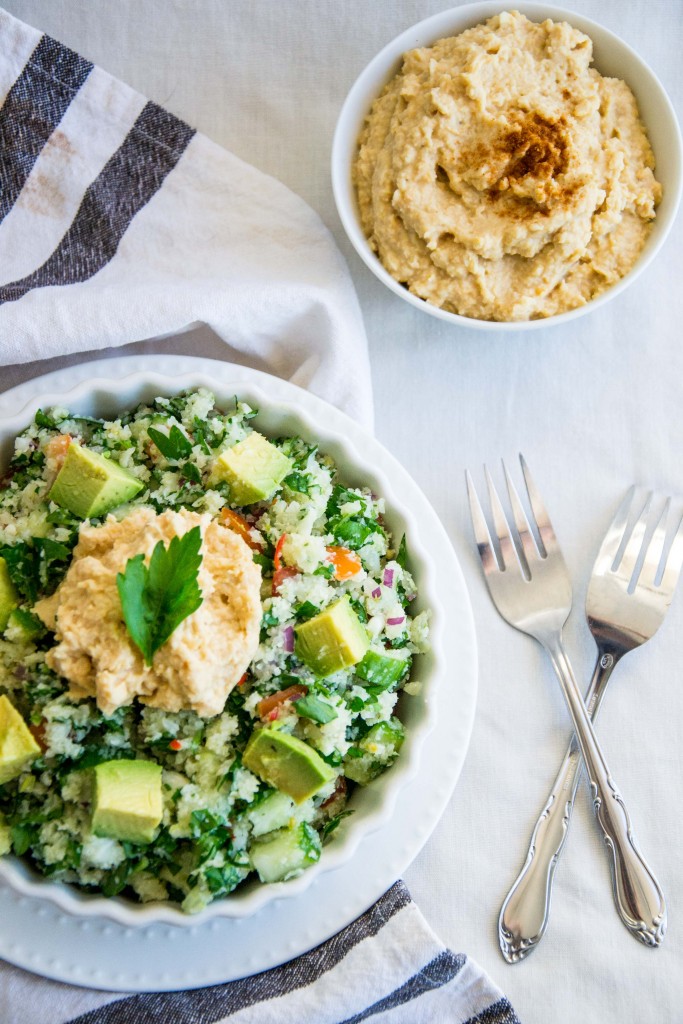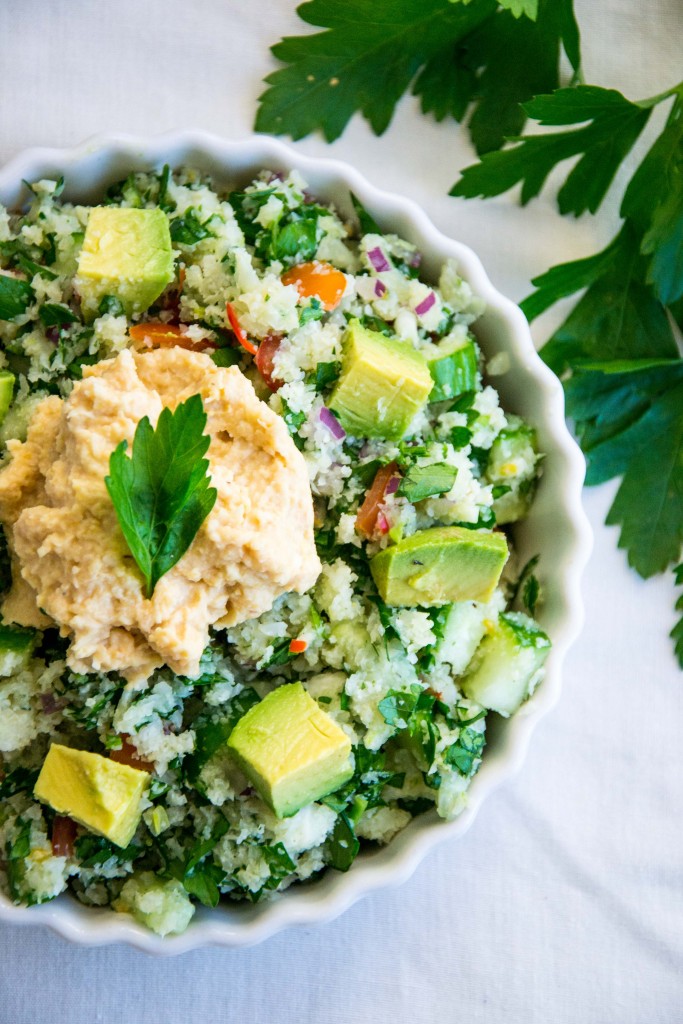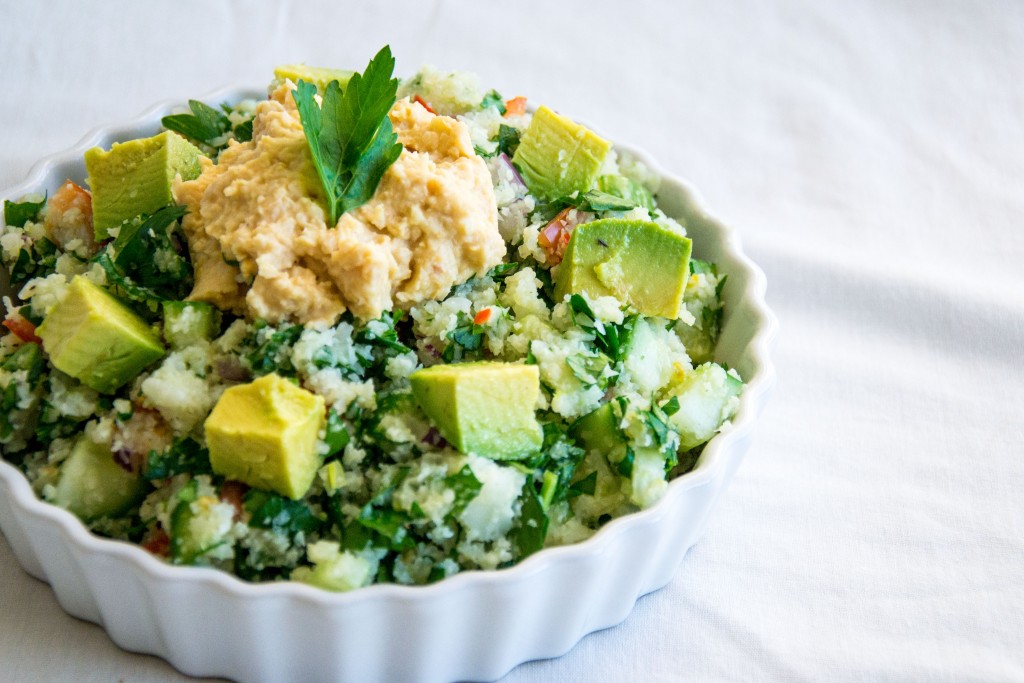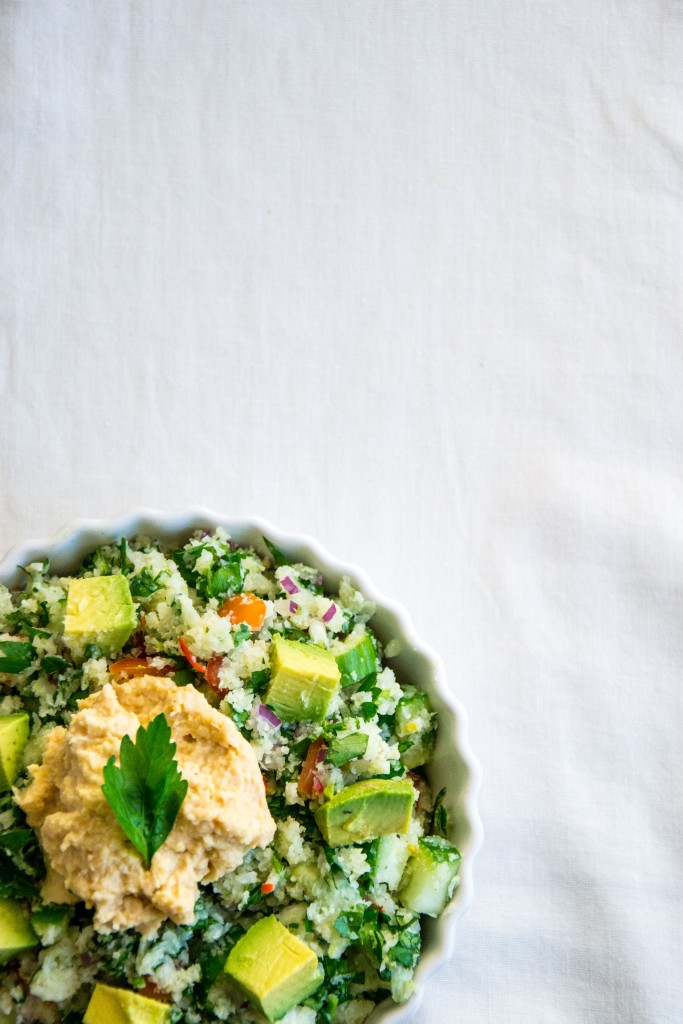 Hope you enjoy 🙂