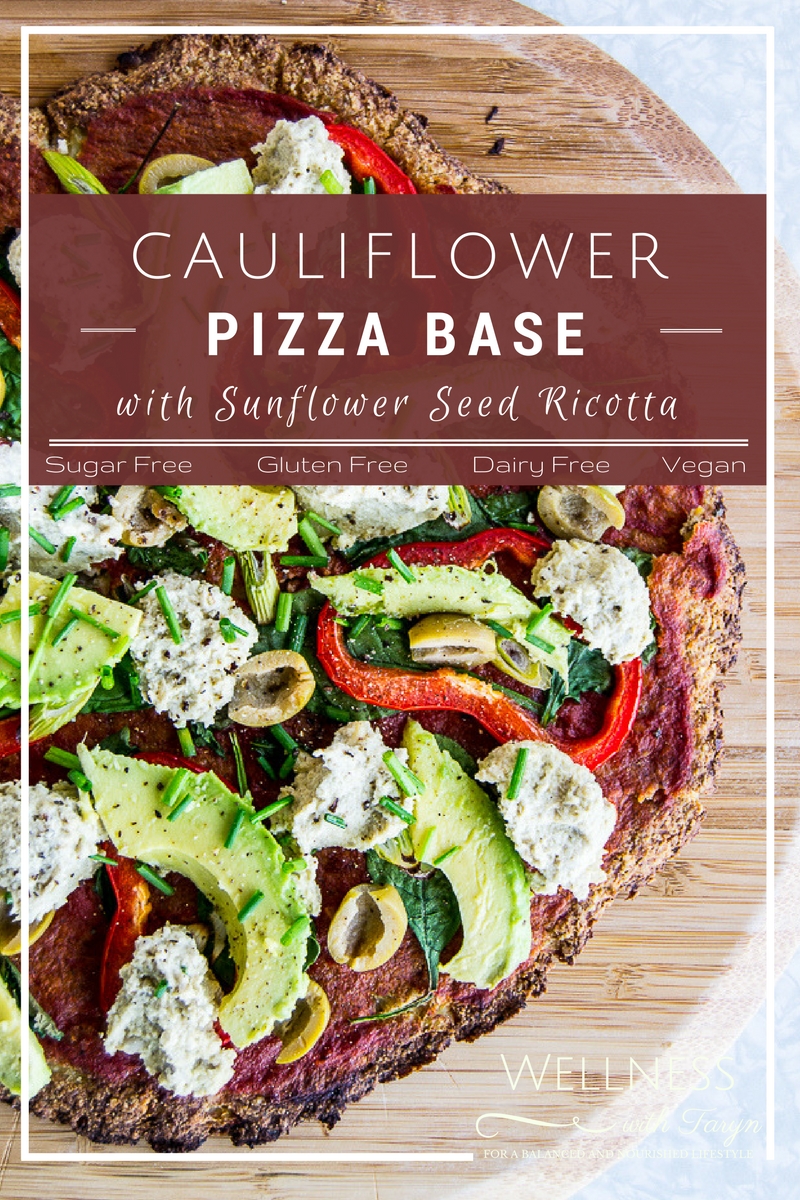 Happy New Year! I wish all my beautiful followers a year filled with happiness, excitement, bliss and all delicious things that make this life so great! If you're trying to incorporate more healthier dishes into your life, then you're in the right place!
Join me in nourishing our bodies with wholesome goodness (like with this Cauliflower Pizza & Sunflower Seed 'Ricotta'), training our minds to incline towards the positive thoughts in life and incorporate more physical movement into our days to live our best possible life.
Now if you're up for a challenge, I suggest you check out Veganuary. It's an initiative to help inspire others to live a kinder way of life, making them aware of the impact they make on the world. The site has loads of recipes, information and inspiration, and I highly suggest you check it out and give it a go – it's not too late to try.
" Veganism is one of the most effective choices a person can make to reduce the suffering of animals, help the planet and improve personal health."
Now, I'm not really one for New Years resolutions, but I have a few things I want to achieve this year and a few things I want to change in myself. One priority is to treat myself with the utmost kindness while I get cracking on these shifts, and I encourage you to do the same.
Being kinder to yourself is such an important life quality, and it really can make the biggest difference. Maybe you've decided to be more aware of what you put on and into your body, or maybe it's taking note of that 'inner voice', that can sometimes be not so nice, and allowing it to pass without holding onto anything it says. Being kinder and more gentle with ourselves is such a great form of self respect. One that we can truly value, and in turn, one that will create magic in our everyday lives.
So, as you scroll down your list of goals or resolutions, just remember to take each day as it comes, and remember to be kind to yourself. You're doing the best you can at this time, and that, my friends, is always enough.
Moving onto this epic delicious recipe I'm sharing today – a Cauliflower Pizza Base with loads of healthy toppings including a yummy Sunflower See 'Ricotta'. It's such a great recipe that is gluten free, low in carbs, perfect for the whole family and completely vegan. Yes, that's right! NO animals were harmed in the making of this pizza.
The sunflower seed 'ricotta' adds a creamy 'cheesyness', while the rest of the ingredients are left to shine through, leaving the flavor of the base to politely balance it all out. It's a great way to add more veggies into your diet, by sneakily disguising them – making it hard to know they were ever there. The added chickpeas in the base give the whole dish a protein boost, which is so important if you follow a plant based lifestyle.
Being a pizza, it's also so versatile – so you can add ingredients that you love or that you have on hand, remove the ones you don't fancy, and ultimately build your own taste/flavor sensation. Leftover pizza is also my favorite! I don't know, there's something about leftovers that often they'll taste awesome (if not better) the next day! So if your full up, and only half way through, never fear because you'll be sorted for lunch the next day!
Why a Cauliflower Base?
Cauliflower is a member of the cruciferous family of vegetables, often overshadowed by its green cousin broccoli. This is one vegetable that deserves a regular rotation in your diet, however, as it contains an impressive array of nutrients, including vitamins, minerals, antioxidants, and other phytochemicals.
Because of its beneficial effects on numerous aspects of health, cauliflower can easily be described as a superfood. Ten of its most impressive benefits follow:
Fight Cancer

– Cauliflower contains sulforaphane, a sulfur compound that has also been shown to kill cancer stem cells, thereby slowing tumor growth. Some researchers believe eliminating cancer stem cells may be key to controlling cancer.

Boost Heart Health

– Sulforaphane in cauliflower and other cruciferous vegetables has been found to significantly improve blood pressure and kidney function.

It's Anti-Inflammatory

– Cauliflower contains a wealth of anti-inflammatory nutrients to help keep inflammation in check, including indole-3-carbinol or I3C, an anti-inflammatory compound that may operate at the genetic level to help prevent the inflammatory responses.

It's Rich in Vitamins and Minerals

– Eating cauliflower regularly is a simple way to get these much-needed nutrients into your body. For instance, one serving of cauliflower contains 77 percent of the recommended daily value of vitamin C. It's also a good source of vitamin K, protein, thiamin, riboflavin, niacin, magnesium, phosphorus, fiber, vitamin B6, folate, pantothenic acid, potassium, and manganese.

Boost Your Brain Health

– Cauliflower is a good source of choline, a B vitamin known for its role in brain development. Choline intake during pregnancy "super-charged" the brain activity of animals in utero, indicating that it may boost cognitive function, and improve learning and memory.

Detoxification Support

– Cauliflower helps your body's ability to detoxify in multiple ways. It contains antioxidants that support Phase 1 detoxification along with sulfur-containing nutrients important for Phase 2 detox activities. The glucosinolates in cauliflower also activate detoxification enzymes.

Digestive Benefits

– Cauliflower is an important source of dietary fiber for digestive health. But that's not all. According to the World's Healthiest Foods "Researchers have determined that the sulforaphane made from a glucosinolate in cauliflower (glucoraphanin) can help protect the lining of your stomach. Sulforaphane provides you with this health benefit by preventing bacterial overgrowth of Helicobacter pylori in your stomach or too much clinging by this bacterium to your stomach wall."

Antioxidants and Phytonutrients Galore

– Eating cauliflower is like winning the antioxidant and phytonutrient lottery. It's packed with vitamin C, beta-carotene, kaempferol, quercetin, rutin, cinnamic acid, and much more. Source
So as you can see, there loads of amazing health benefits crammed into this simple little vegetable, and adding it's versatility to the equation, there's no reason why we all should all more of it to our diets. And for those who are fussy and can't stands it's original form, comes recipes like these where we transform it into something so tasty!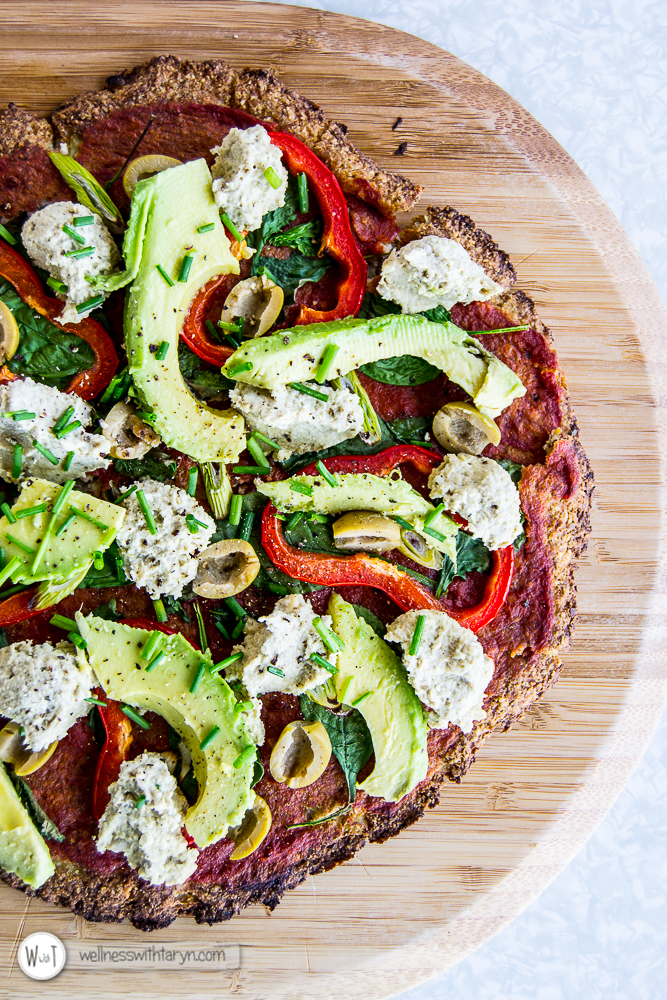 Cauliflower Pizza with a Sunflower Seed 'Ricotta'
2017-01-08 01:13:01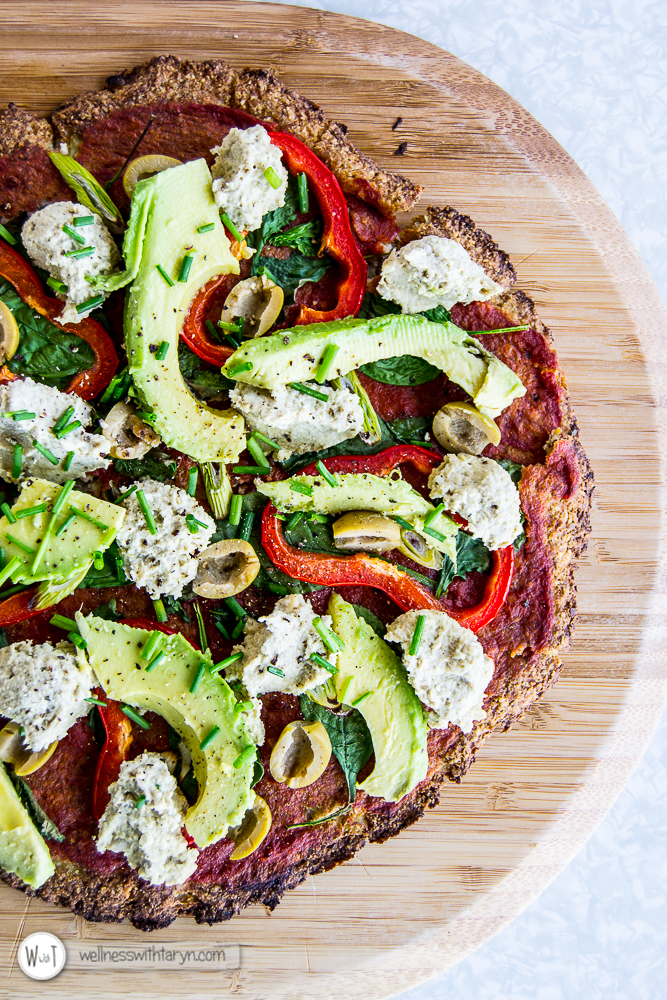 A high protein cauliflower pizza base, topped with delicious toppings and a vegan sunflower seed 'ricotta'. A perfect mix of flavors that'll tantalize any tastebuds!
Ingredients
CAULIFLOWER PIZZA BASE
2 1/2 Cups Cauliflower (Cleaned, lightly steamed, blitzed then drained in a nut milk bag)
1/2 Cup Organic Chickpeas (I used canned - drained, rinsed, and blitzed in a food processor)
1 Tsp Chia Seeds
1 Tsp Ground Flax (Mixed with the chia seeds and 3 TBS warm water - left aside to swell)
1/2 Cup Ground Almonds/Almond Meal
2 TBS Organic Cold Pressed Olive Oil
1/2 Tsp Bicarbonate of Soda
1/2 Tsp Salt
TOPPINGS
Organic Green Olives
Red Bell Pepper
Fresh Chives
Baby Spinach and Kale leaves
Spring Onion
Tomato Paste
Tomato Pasta Sauce
Avocado
SUNFLOWER SEED 'RICOTTA'
1 Cup Sunflower Seeds (Soaked in water overnight or at least 2 hours)
3 TBS Nutritional Yeast
1/2 Tsp Apple Cider Vinegar (Organic - with the 'mother')
1/2 Tsp Fresh Lemon Juice
1 TBS Chopped Fresh Chives
Pinch of Salt and Pepper
Instructions
Pre-heat the oven to 200C
CAULIFLOWER PIZZA BASE
Drain and rinse the chickpeas and blitz in a food processor - place into a large mixing bowl.
Clean and rinse the cauliflower - and lightly steam for about 3-5 mins. Don't over steam or the base will turn soggy.
While the cauliflower is steaming, in a small bowl add the flax, chia seeds and water. Leave aside to swell.
Once the cauliflower has steamed, remove and spin in a salad spinner to remove any excess moisture.
Blitz in a food processor until fine. Place into a nut milk bag or muslin cloth and squeeze out any liquid. You want the cauliflower to be as dry as possible.
Add the flax/chia egg, cauliflower and remaining base ingredients to the chickpeas and mix thoroughly.
Flatten the mixture out on a baking paper lined pizza tray. Use your fingers to spread and flatten evenly. Poke with a fork to ensure even cooking, and pop into the oven on 200C for 10 mins.
SUNFLOWER SEED 'RICOTTA'
Add all ingredients into a food processor, and blitz until chunky.
Store in an airtight jar for up to 3 days.
TOPPINGS
Once the base has cooked, mix the tomato pasta sauce and tomato paste, and spread evenly over it.
Place the spinach, kale, red bell pepper, spring onion and olives and place back in the oven on 180C for a further 10 mins.
Once cooked, remove and add the 'ricotta', fresh chives and sliced avocado.
Serve and enjoy!
Notes
You will need a nut milk bag or muslin cloth to strain the cauliflower once it's steamed
The Sunflower seeds for the 'ricotta' will need to be soaked in water overnight or at least 2 hours
Use Organic wherever possible
Wellness with Taryn http://wellnesswithtaryn.com/
I do hope you enjoyed this post, and remember to subscribe to receive delicious healthy recipes and loads more inspiring content straight to your inbox 🙂