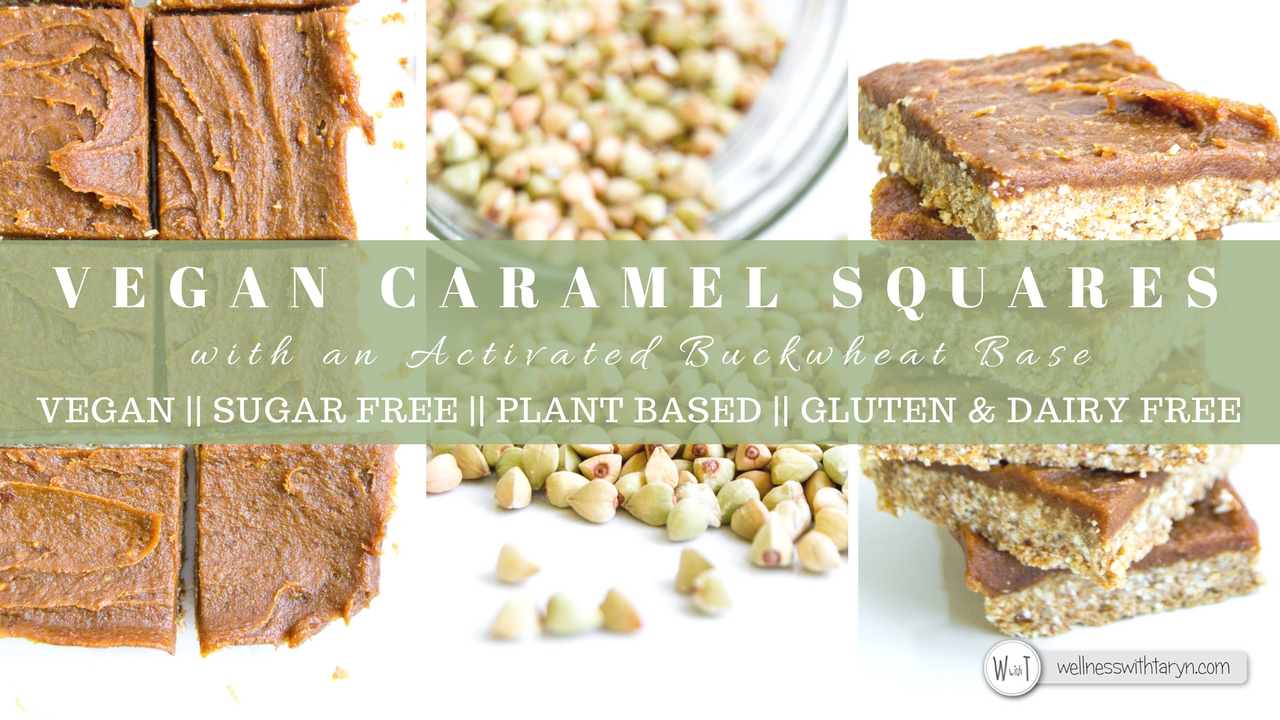 Living simplistically can be so rewarding. More and more of us are making the conscious effort to reduce waste, buy less, save more and ultimately live more simply. There's so many little things we can do, that can really add up in a big way.
Change in the minority, I believe, can have a massive ripple effect and if we all work hard together to spread the word, the benefits for our future generations and our planet will surely come into fruition.
I was inspired this week, by simple living, and hence decided to make a simple recipe, with simple ingredients, that tasted simply wonderful. I succeeded, and this Vegan Caramel Squares with Activated Buckinis recipe was the result.
Minimalism is a concept and lifestyle choice/movement that is gaining more and more momentum in the modern world. Minimalism is living simply and consciously with freedom and intention. Focusing on only the things that are needed, and unnecessary 'things' removed. Minimalism helps you to put into perspective the things in life that really matter, like careers, family, homes, etc, and "simply allows you to make these decisions more consciously, more deliberately."
By stepping out of the consumerism rat race, there's a sense of happiness and almost relief. Relinquishing that control of 'needing' this and 'needing' that, it allows you to focus on other more important things in life, and especially those that make you truly happy.
Now, that's not tot say you can't have that 'thing' that you saw and can't get out of your head. What minimalism does is teach you to make a conscious choice and decision if that item is truly necessary.
This conscious choice can help one to look deeper into the purchase – is it made locally? Is it ethical? It is good quality? Am I putting my money forward in a positive intentional way that is going to support someone else who has good values and is not just in it for the buck $? All these little things come into play, and really does help wade out the consumer driven crap that we sometimes get caught up in buying, unnecessarily.
Anyway, I'm still learning a lot about minimalism and am trying to put these little thought patterns into action, and so far I have felt a positive overall effect. Do you practice minimalism? What are you're thoughts on the topic?
Now, back to this simple and rather minimalist recipe, that uses only a handful of ingredients. The nutrients combined from dates, buckwheat, coconut oil (find out which brands ranked the best) and peanut butter all work perfectly to create the perfect caramel square that's sure to give you heaps of energy! Only sweetened with dates, these squares are full of fiber to help gradually increase blood glucose levels – giving you the perfect sustained hit of oomph! Make these and store them in the freezer, pop into lunch boxes for the perfect mid morning snack – they're seriously so delicious!
Buckwheat Nutritional Benefits
It's a great carbohydrate source without the insulin impact. It is very filling. Studies show that it can benefit in management of diabetes, moderating the insulin response. Buckwheat contains good amounts of potassium, magnesium and manganese, important minerals that are really lacking in our diets.
It is also very rich in rutin, quercetin, lutein and zeaxanthin – all potent flavonoid antioxidants. A great source of good plant fibre as well as protein, it contains all essential amino acids. Being gluten free and highly digestible, it is well tolerated even by those with digestive disorders. Source
Like all seeds and nuts (and grains and legumes) it needs to be soaked overnight to ensure any phytic acid is removed and nutrition is maximised. Phytic Acid binds to the nutrients within grains, legumes, nuts and seeds making them less available to us.
By soaking your grains and legumes you are significantly reducing the Phytic Acid content by activating the natural enzyme known as Phytase, which breaks down Phytic Acid and allows the nutrients contained in the food to become more bio-available, which basically means our bodies can absorb the nutrients and vitamins more readily. Source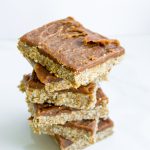 Vegan Caramel Squares
The perfect healthy treat, that's full of flavor, great nutrition and free from dairy, refined sugar and gluten. These plant based caramel squares are the perfect energy snack!

Course:
Dessert, Snack, Treat
Cuisine:
Dairy Free, Gluten Free, Healthy Fats, Plant based, Refined Sugar Free, Vegan, Vegetarian
Ingredients
Base
2

Cups

Organic Activated Buckwheat Grouts

1 1/2

Cup

Medjool Dates

- pitted

2

TBS

Peanut Butter

- or almond butter if you have a peanut allergy

2

TBS

Organic Cold Pressed Coconut Oil

- melted

Pinch

Pink Himalayan Rock Salt
Caramel Topping
2 1/2

Cups

Regular Dates

- pitted

2

TBS

Organic Cold Pressed Coconut Oil

- melted

1/2

Tsp

Pink Himalayan Rock Salt
Instructions
Base
Place the activated buckwheat grouts into the food processor and process for about a minute just to help break them down a bit.


Add the remaining ingredients, and blend until all combined.




Press the mixture down into a lined baking dish. I used a 20cm x 30cm size dish. Rub a bit of coconut oil on your hands to help avoid the mixture sticking to your hands whilst pressing down.


Place into the freezer while you make the caramel topping.

Caramel Topping
Soak the regular pitted dates in some boiling kettle water for a couple of minutes to soften.


Add them to a food processor, along with the coconut oil and salt and blend until a thick caramel topping forms. You may need to scrape down the sides a few times.


Spread the caramel topping over the buckwheat base and place into the freezer to set overnight.


Remove from freezer and allow to thaw for a few minutes - this will make it easier to slice.


Slice into squares, and store in an airtight container in the freezer for up to 1 week. Remove and thaw for a few minutes before eating.

Recipe Notes
Use Organic wherever possible
I hope you enjoyed this recipe, and remember to head over to my Instagram and Facebook pages to keep inspired!