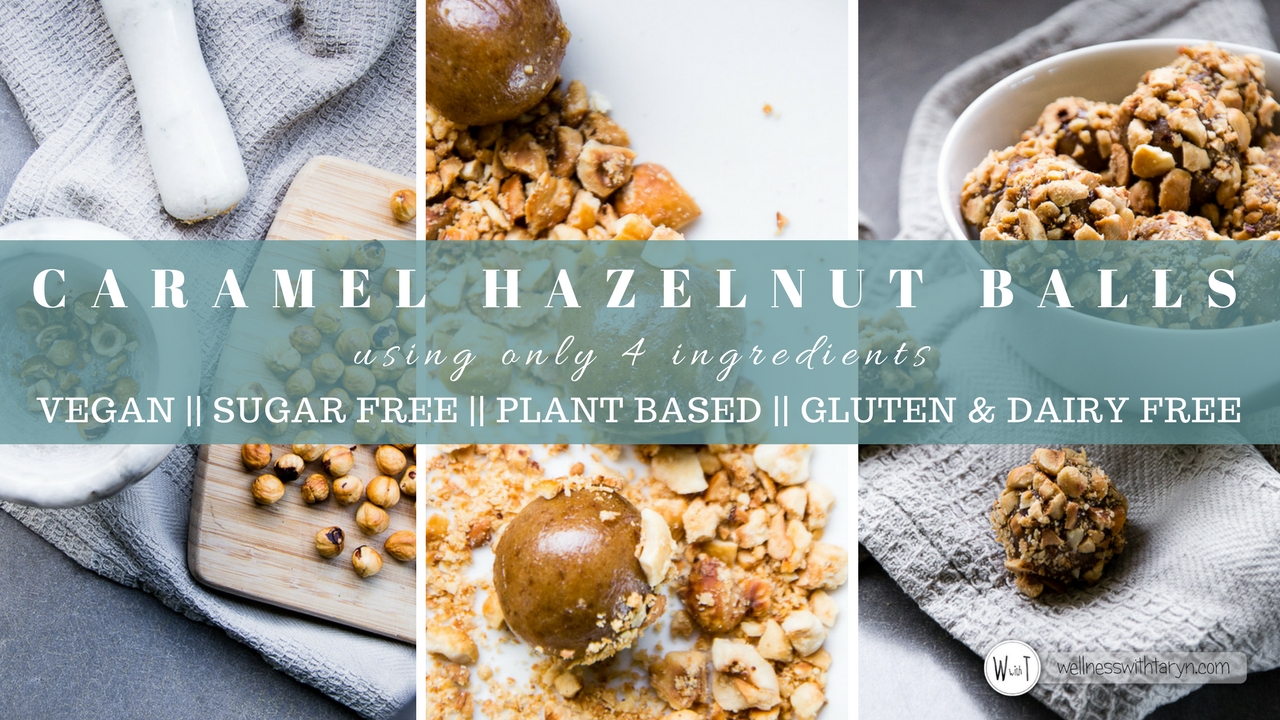 It's my mission to share how delicious and easy healthy food can be. This Caramel Hazelnut Bliss Ball recipe is the perfect way to show how incredibly tasty healthy treats can be.
Using only 4 ingredients (yes you read correct, only 4 ingredients!), these balls are fudgy and have the most perfect texture, and the lightly roasted hazelnut flavor adds such a delicious dimension to this simple healthy recipe.
When I embarked on my wellness journey, I was excited and eager to learn about all the news foods and recipes I could have. While this is the case for some, many find it daunting and refuse to believe that healthy foods can taste incredibly delicious.
I've had to deal with my fair share of backlash from those who see health this way, and have endured countless criticism over my diet. I don't let it get me down at all. Everyone is entitled to their own opinions, and while the natural fear of the unknown could be the case for most, it inspires me further to continue on this path of health and wellness.
New Zealand has been a breath of fresh air, because I've found that people are a lot more open to health and wellness and alternative diets here. From the young to the elderly, I've met many who are on their individual paths to wellness and I find this so refreshing.
The alternative options at restaurants and cafes are amazing to say the least, and more and more places are open to gluten free/sugar free/dairy free, etc. It's fantastic!
Moving on, to this insanely delicious recipe!
Gooey

Fudgy

Sweet

Chewy

Decadent

Crunchy

Perfect
Made simply with soft medjool dates, almond butter, coconut oil and roasted hazelnuts, this recipe is sure to become a favorite for it's simplicity alone. Almond butter and medjool dates create the most delicious healthy caramel, and the coconut oil helps to reach that gooey, chewy caramel texture.
These can keep in the freezer and are perfect for that instant sweet craving satisfaction.
Health Benefits of Medjool Dates
When it comes to the number of minerals, vitamins, and health-benefiting phytonutrients in dates, suffice it to say there are a lot of them. First and foremost, they're easily digested, allowing your body to make full use of their goodness.
Dietary fiber in dates helps to move waste smoothly through your colon and helps prevent LDL (bad) cholesterol absorption by binding with substances containing cancer-causing chemicals. The iron content, a component of hemoglobin in red blood cells, determines the balance of oxygen in the blood. Potassium, an electrolyte, helps control your heart rate and blood pressure. B-vitamins contained in dates, such as the carotenes lutein and zeaxanthin, absorb into the retina to maintain optimal light-filtering functions and protect against macular degeneration.
Want more? They contain vitamins A and K. Vitamin A protects the eyes, maintains healthy skin and mucus membranes, and even protects the lungs and mouth from developing cancer. Tannins, which are flavonoids as well as polyphenolic antioxidants, fight infection and inflammation and help prevent excessive bleeding (anti-hemorrhagic). Vitamin K is a blood coagulant that also helps metabolize your bones.
Copper, magnesium, manganese, vitamin B6 (pyridoxine), niacin, pantothenic acid, and riboflavin are also present in dates and provide their own unique preventive and healing functions.
Together, these co factors help your body metabolize carbohydrates, protein, and fats. Eating dates in moderation can contribute to many health benefits, such as protecting against damage to cells from free radicals, helping preventing a stroke, coronary heart disease and the development of colon, prostate, breast, endometrial, lung, and pancreatic cancers. Source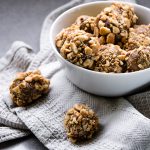 Caramel Hazelnut Balls - Only 4 Ingredients
A delicious healthy snack option that only uses 4 ingredients. Simple and quick - the perfect lunchbox addition or 4pm snack. Free from gluten, refined sugar and dairy.

Cuisine:
Dairy Free, Gluten Free, Grain Free, Healthy Fats, Plant based, Refined Sugar Free, Sugar Free, Vegan
Ingredients
12

Medjool Dates

- soaked in boiling water for 2 mins

1

TBS

Orgnaic Cold Presssed Coconut Oil

- melted

3

TBS

Almond Butter

70

g

Raw Hazelnuts

- or 3/4 Cup
Instructions
Pre-heat the oven to 160C fan forced


Pit the medjool dates and place in a bowl. Cover in boiling water and leave to soak for 2 mins


Remove the dates and drain the water, and place into a food processor.


Add 1 TBS coconut oil and blend until smooth.


Add the 3 TBS almond butter and blend until a thick gooey paste has formed.


Using a 1/2 TBS measuring spoon, scoop out some of the paste and sing the back of a teaspoon (or your finger) scoop out onto a baking paper lined plate.


Repeat this until the paste is all used up. You can make the balls however big you want, but I find the 1/2TBS size is good and makes about 20 balls.


Take this plate and pop it into the freezer to help the sticky mixture set, so that it's easier to roll into balls. While the balls set, start on the hazelnuts.


Place the hazelnuts onto a lined baking tray and roast in the oven for 7-8mins. Remove and leave to cool. Once cooled, using your hands rub the hazelnuts together to help remove their outer husk. This tends to be quite bitter, so best to remove it.


Once you've removed the husk from the hazelnuts, place into either a mortar and pestle - or food processor and crush into bits.


Remove the balls from the freezer and roll into balls using your hands.


Roll each ball firmly into the crushed hazelnuts and set aside.


Allow them to firm in the freezer for about 30mins to get that perfect chewy texture.


Keep in the freezer in an airtight container for up to 7 days - if they can last that long!

Recipe Notes
Use organic wherever possible - this recipe requires a bit of freezer time