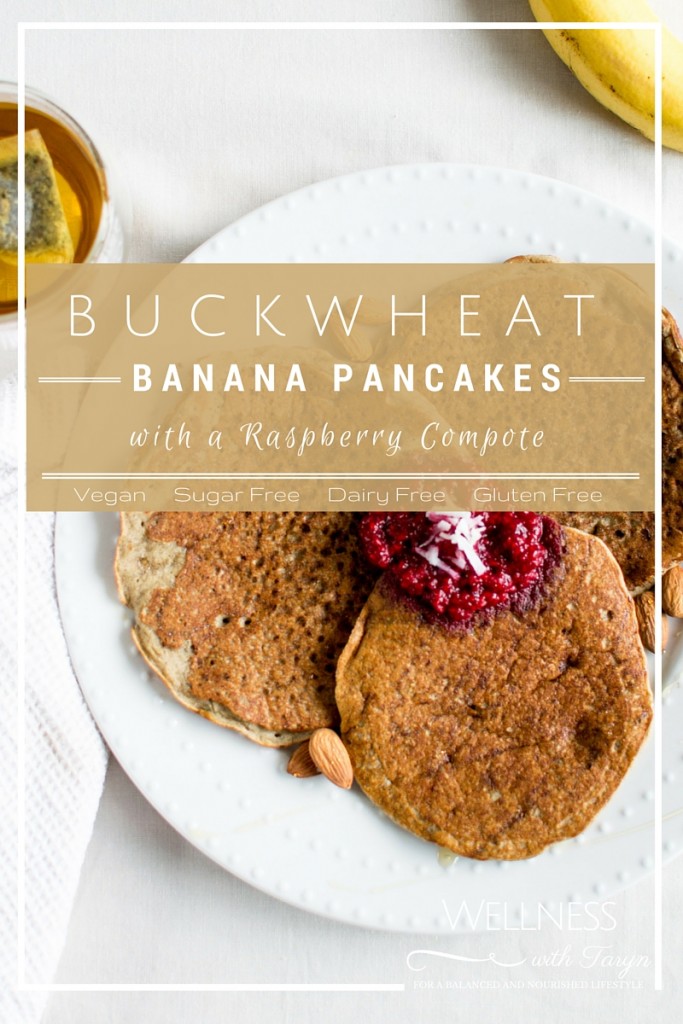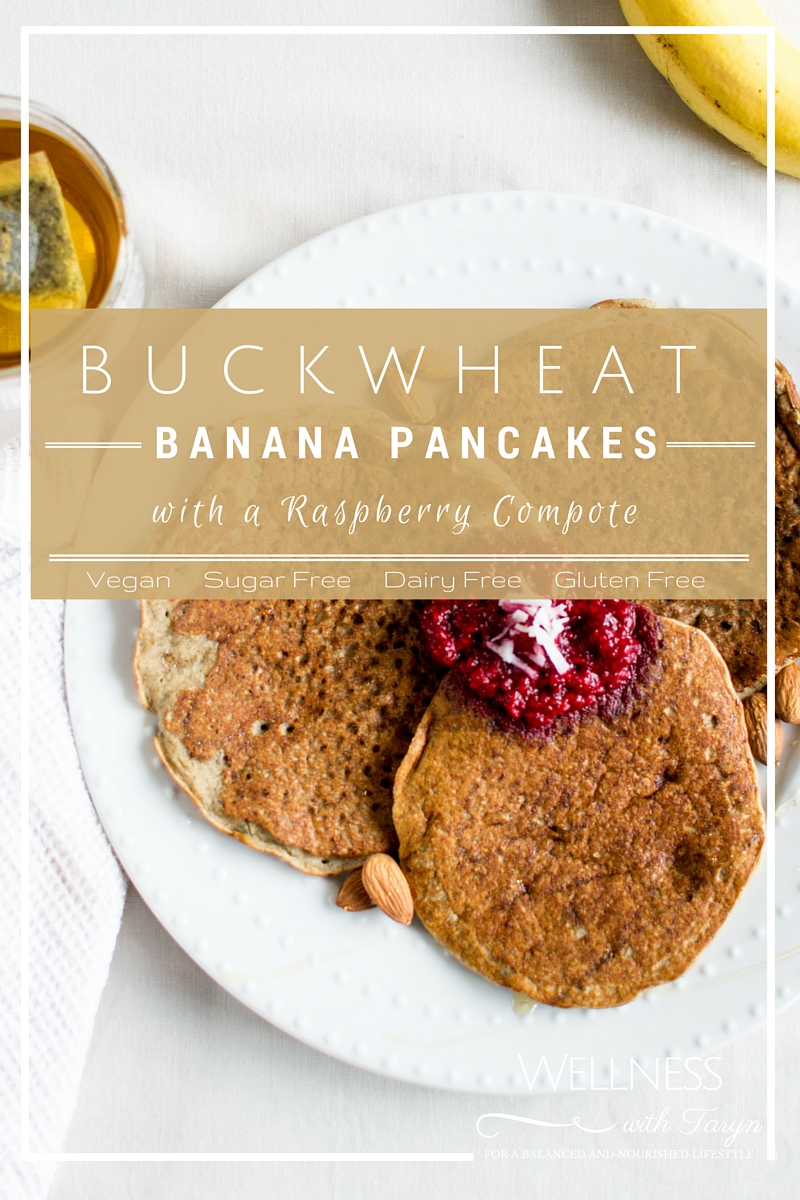 My sweetpea, Nick, loves loves loves pancakes! So, these holidays he's been spoilt with pancakes for breakfast. And while I haven't yet managed to get him to try out my yummy healthy pancakes, it's still great to treat us both to yummy pancakes!
These scrumptious buckwheat banana pancakes are so easy to make (I mean, what pancake recipe isn't easy to make 😉 ? ) and are incredibly good for you! So much flavor and definitely fill the fasting gap! I found them quite fulling too, and wasn't hungry for ages after eating them! They really did fuel me for quite a while!
They are refined sugar free, as well as free from gluten and dairy, making them 100% earth friendly and vegan! My kinda food!!!! You can decorate them however you please, and the batter lasts a couple of days in a sealed container in the fridge. So, what I tend to do is make a batch and have them for breakfast over a couple of days. So convenient!!! 😉 And they're great for the holiday season, when we have a bit more time on out hands to fuss about in the kitchen 🙂
Why I Love Buckwheat?
While most think that Buckwheat is a cereal grain, it in fact is a fruit seed that is related to rhubarb and sorrel. And, although the name may sound like it does, it is in fact totally unrelated and free from wheat making it 100% gluten free. It is relatively inexpensive and is great to use in baking, and is an essential ingredient in these yummy pancakes. Now, why do I love this nutty little seed so much?
Good for your Cardiovascular System

Diets that contain buckwheat have been linked to lowered risk of developing high cholesterol and high blood pressure. Diets high in buckwheat intake were associated with lower total serum cholesterol, lower low-density lipoprotein cholesterol (LDL, the form linked to cardiovascular disease), and a high ratio of HDL (health-promoting cholesterol) to total cholesterol.

Better Blood Sugar Control

The nutrients in buckwheat may contribute to blood sugar control, and may significantly lower blood glucose and insulin responses. Buckwheat and other whole grains are also rich sources of magnesium, a mineral that acts as a co-factor for more than 300 enzymes, including enzymes involved in the body's use of glucose and insulin secretion.
Helps Prevent Gallstones Eating foods high in insoluble fiber, such as buckwheat, can help women avoid gallstones. Insoluble fiber not only speeds intestinal transit time (how quickly food moves through the intestines), but reduces the secretion of bile acids (excessive amounts contribute to gallstone formation), increases insulin sensitivity and lowers triglycerides (blood fats).
Not only does buckwheat have great taste, many culinary uses and is a great gluten free alternative, it's incredibly good for you and hosts an array of health benefits. Tick's all the boxes on my 'health-check' list!
Best served with a cup of your favorite herbal tea, and a delicious raspberry compote. A perfect healthy start to your day! Try my Omega Spinach Pancakes too 🙂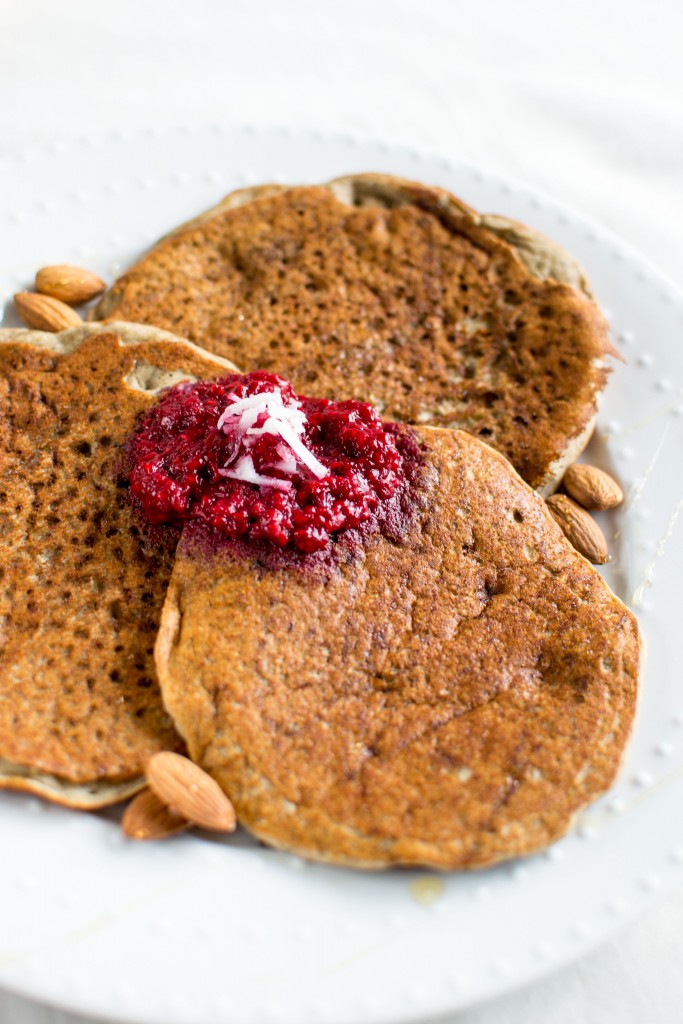 Buckwheat Banana Pancakes
2015-12-29 10:11:59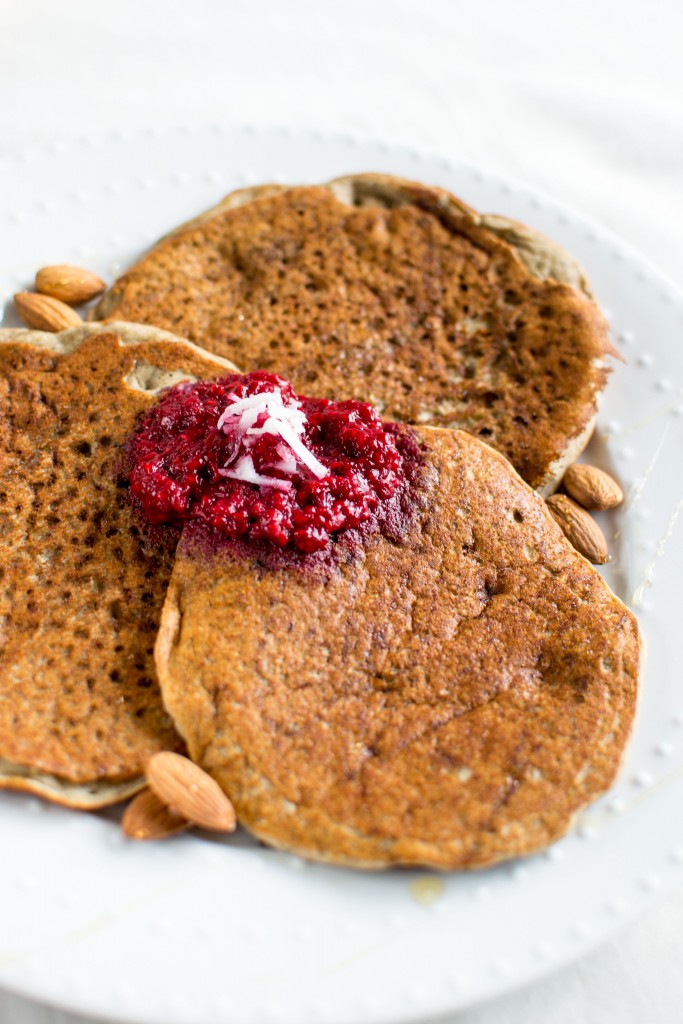 Serves 2
A delicious and healthy pancake recipe, that is gluten, sugar and dairy free. 100% vegan and the perfect scrumptious healthy start to any day!
Ingredients
PANCAKES
1/4 Cup Buckwheat Flour
1/4 Cup Gluten Free Flour Mix
2 Tsp Organic Cold Pressed Coconut Oil (Melted)
1 TBS Chia Seeds - Left to soak in 3 TBS water (Chia Egg)
1 Large Banana (Mashed)
1 1/2 Tsp Baking Powder
1/2 Tsp Bicarbonate of Soda
2 TBS Organic Rice Malt Syrup
1/2 Cup Almond Milk
1/2 Tsp Vanilla Paste
Pinch of Himalayan Salt
RASPBERRY COMPOTE
Handful of frozen raspberries
1 TBS Organic Rice Malt Syrup
Instructions
In a small bowl, place the Chia Seeds and water and allow to soak and swell.
In a mixing bowl, add the flours, bicarbonate of soda and baking powder. Mix together.
Next, mash your banana with a fork, and add to the flour mixture, along with the rice malt syrup, salt, vanilla paste and almond milk. Combine all ingredients.
Add the swelled chia seeds (chia egg) and mix again.
Lastly add the coconut oil, and mix with a whisk until all ingredient are combined and a thick pancake mixture has formed.
In a medium heated pan, slowly spoon the mixture. I tend to use 3 TBS of mixture for one pancake, but it's totally up to you how big you want them.
Cook until little air bubbles start to form on the top, or until golden brown underneath.
Flip, and cook until fully cooked through.
In a small saucepan, add a handful of frozen raspberries, with 1 TBS of Rice Malt Syrup. On a medium heat, allow the raspberries to reduce and cook through, until a compote has formed.
Serve on top of the pancakes, with a cup of your favorite herbal tea, and enjoy the heavenly tastes dancing in your mouth!
Notes
* Use Organic where possible
Wellness with Taryn http://wellnesswithtaryn.com/