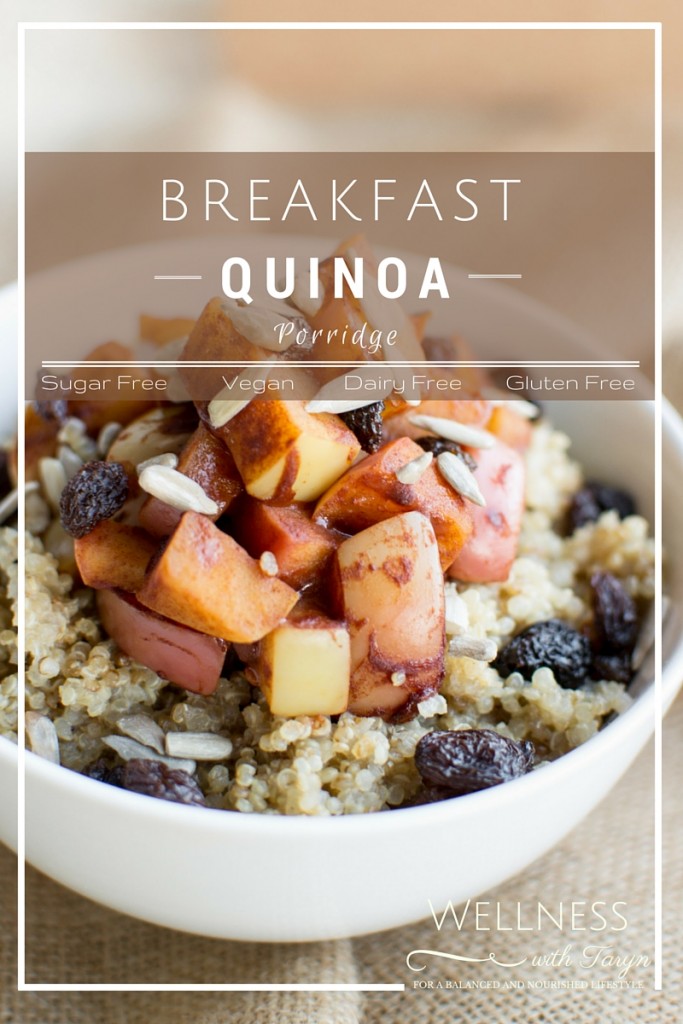 Quinoa has to be one of my favorite grains! (that technically is not a grain but in fact a seed!) It's versatility alone makes it extremely favorable and it's almost nutty flavor adds is so delicious. Be it breakfast, lunch or dinner this Aztec 'superfood' can be paired with a variety of foods. I decided to create an updated Quinoa Porridge recipe and share how I've been loving this grain in the mornings.
I've found it gives me so much more energy than say regular oats, and I think gluten may be one of the reasons. I tend to tolerate oats, but have noticed quite a difference in my overall energy levels and brain clarity when comparing the two breakfasts. The quinoa porridge certainly makes me feel a lot more energized, aware, focused!
I love having a connection with my body, and listening to it. Noticing how it feels and what impact certain foods have on it. It's this mind body connection that I find is so important in a balanced healthy lifestyle. Being able to be connected to your body, learning ways to make it thrive and ultimately having so much respect for it. Our bodies are truly so amazing! So many millions and trillions of activities are happening in our bodies each day, without us even noticing and I think it's so important to remember to be grateful for that.
Although my body is not perfect and does have it's flaws, I still have so much love for it. I regularly try to make a point of being grateful for it, and these small acts of gratitude can really help shift the way you see yourself. When was the last time you stood in front of the mirror, criticisms aside, and just truly felt love and appreciation for the body in the reflection. I urge you to take more time to feel gratitude for who you are as a whole.
You and your body deserve to feel happy and content, even if it's only for that brief moment in the mirror. It's so easy to be quick to scrutinize our appearance, highlighting our flaws and all that we're unhappy with, but ultimately we should embrace our bodies. Once you begin the love-gratitude cycle within yourself, things will begin to change, mind-sets will shift and you'll begin to be perfectly happy with what you have.
I could have given up 5 years ago when I was admitted into ICU with Diabetic Ketoacidosis and diagnosed with Type 1 Diabetes. I could have chosen a completely different path, constantly fighting my immune 'dis-ease', but I didn't. I chose to accept it and move forward in a positive light. Slowly over time I have accepted myself, mind body and all! And don't get me wrong! it's always a work in progress, and a journey, but I feel content in the fact that I can stand in front of the mirror and feel love and gratitude for what I see in the reflection.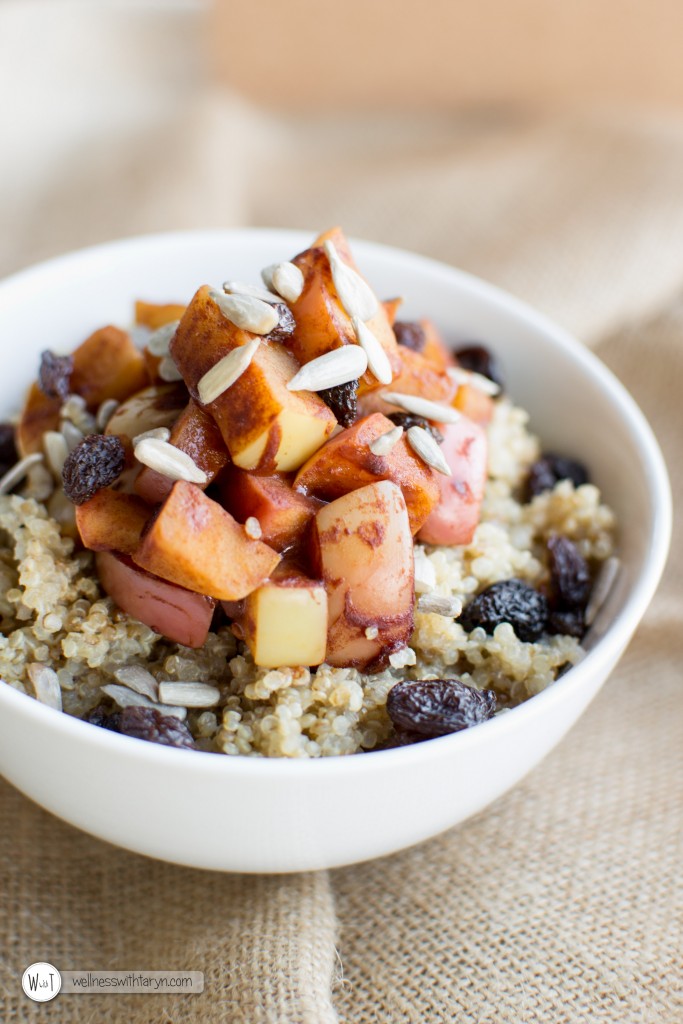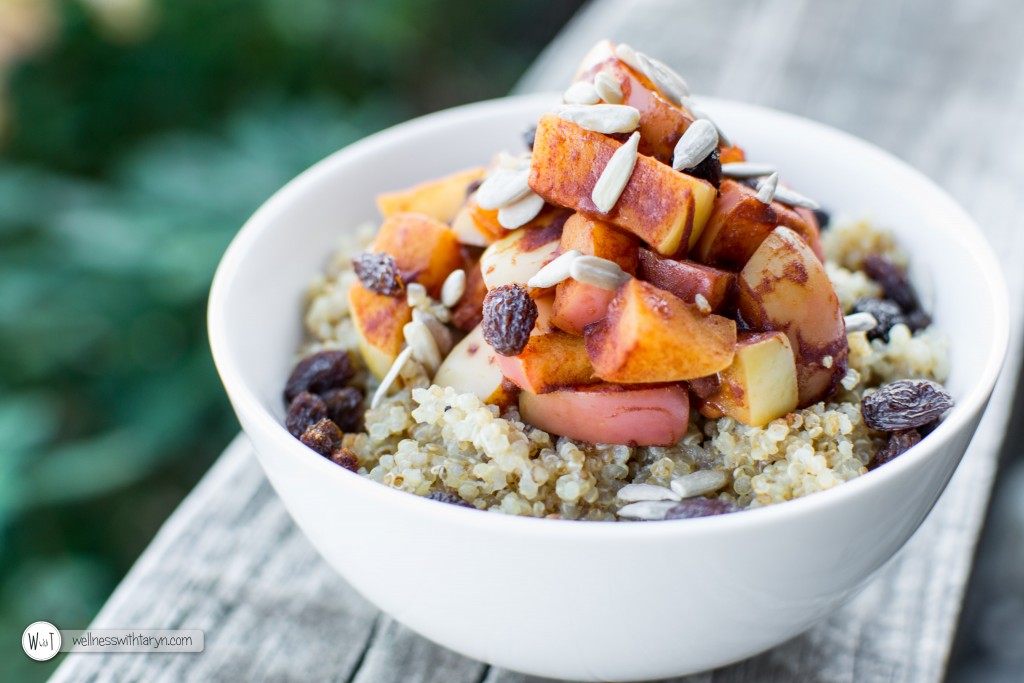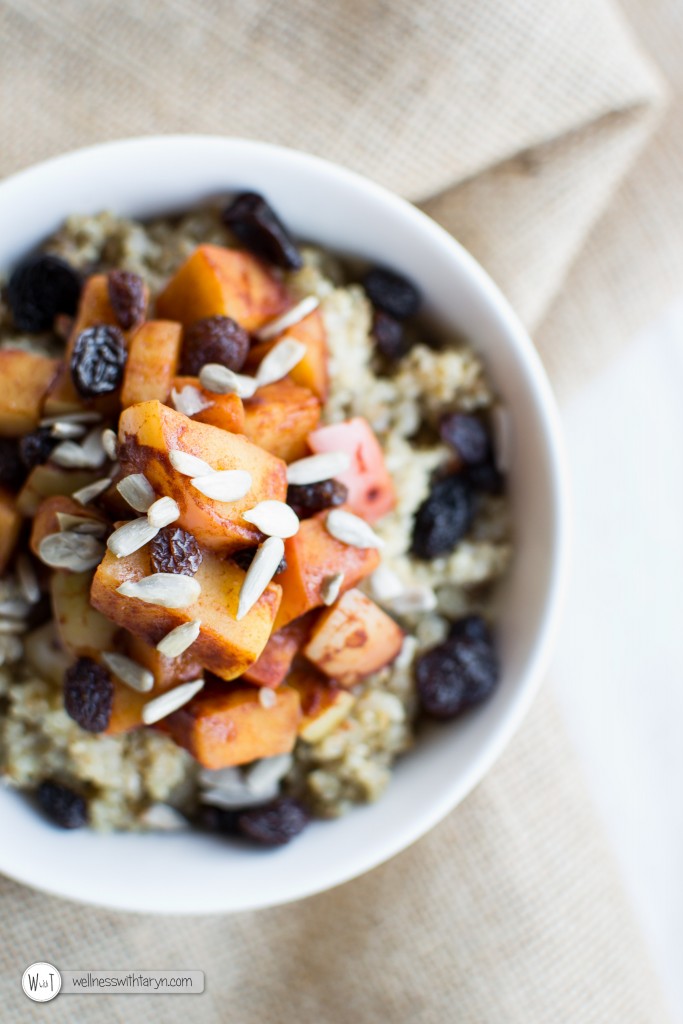 Now that I've rambled off topic, let's get back to this delicious recipe. In winter, I'm such a porridge person! I think there's something so soothing about having a warm bowl of nourishing porridge in the mornings. It sets me off on a good start, especially with this Breakfast Quinoa Porridge. It'll leave you feeling:
Nourished

Content

Warmed

Energized

Powerful
Bliss! What more could you want from a simple breakfast porridge! I do hope you'll try this recipe, and if you do I'd love to see so tag me @wellnesswithtaryn on Instagram and #wellnesswithtaryn
12 Things you should know about quinoa
it is an ancient Aztec superfood
it has a funny pronunciation 'Keen-wah'
it's super high in protein
it's gluten free
it needs to be rinsed well before cooking
it comes in different colours, red black and white
it looks like a grain but is actually a seed
it has an interesting texture
it's high in manganese
it can be eaten as a grain or as flour
it's high in phytonutrients and antioxidants
it uses a 1 to 1.5 cups of water ratio when cooking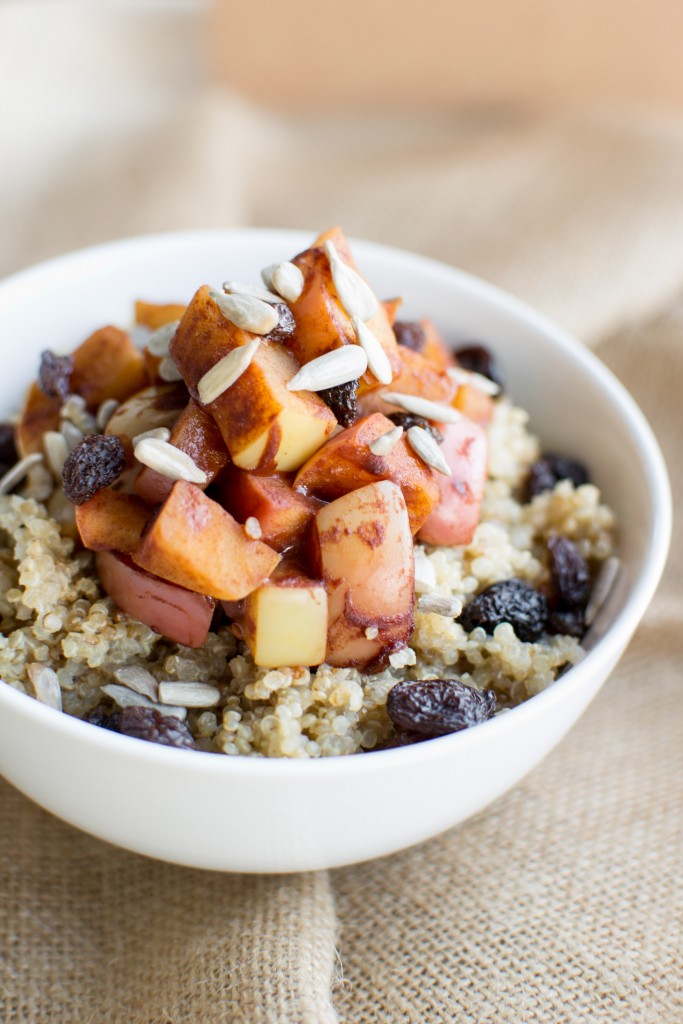 Breakfast Quinoa Porridge
2016-06-17 05:31:55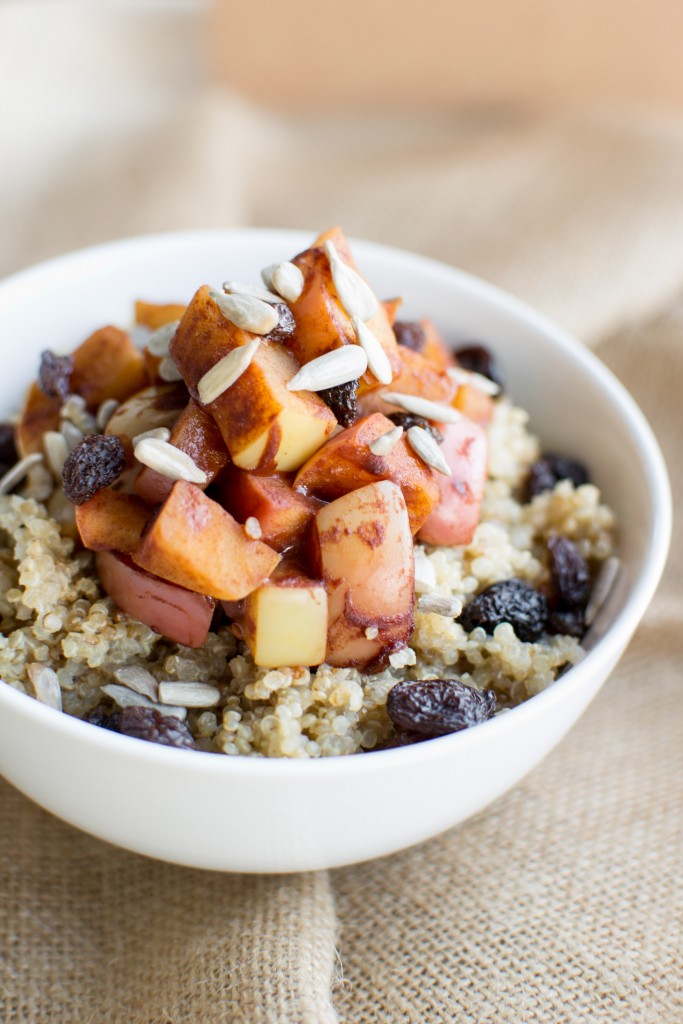 Serves 2
A delicious warming porridge that is gluten free and loaded with nutrients and antioxidants. A must for those chilly Winter mornings.
Ingredients
1 Cup Organic White Quinoa
1 1/2 Cups Water
1 Large Apple (Chopped into cubes)
2 Tsp Cinnamon
1/2 Tsp Coconut Oil
Pinch of Sea Salt
Dash of Water
TO SERVE
Plant Milk
Raisins
Sunflower Seeds
Instructions
Bring 1 1/2 Cups of water to boil in a medium pot. Rinse the quinoa and place into the boiling water.
Reduce the heat to medium and allow to cook for about 4-6 mins, stirring occasionally.
Lower the heat and put the lid on. Once quinoa has absorbed all the water, and has slightly steamed, it'll become light and fluffy.
In a small frying pan on a medium heat, add the coconut oil. Once hot, add the chopped apples, cinnamon, salt and 1 TBS water. Allow to saute until the apple is soft. You may need to occasionally add a little water to avoid sticking.
Once cooked remove from the heat. In a breakfast bowl, add the desired amount of quinoa and add a little plant milk and stir.
Top this porridge mixture with the sauteed apple and cinnamon.
Sprinkle with raisins and sunflower seeds and enjoy!
Wellness with Taryn http://wellnesswithtaryn.com/