A breakfast jar is the perfect option if you're rushed most mornings, tend to skip breakfast for lack of time, or just enjoy to have the reach and eat option first thing in the morning. By preparing this jar the night before, it'll be ready in the morning for you to just grab and munch! So easy, so delicious and so fulling!
This recipe is so so tasty, and is really versatile too, so you can add ingredients that suit your taste. In this jar I've used banana and golden kiwi fruit to sweeten it, but you can really add what ever fruits you like. I'm thinking of maybe doing a breakfast jar series, with different recipes, so let me know if you'd be keen to see more like this.
The chia seed is loaded with nutritional benefits, and is a serious little powerhouse seed. You can read more about chia seed benefits in this post here and here.
Now my favorite part of this recipe is the creamy, white delicious dairy free coconut yoghurt! I recently discovered this Doctors Choice Dairy Free Coconut Bio Yoghurt at our local Fresh Choice, and have fallen in love with it (yum yum yum). I also have seen the Raglan Coconut Yoghurt there too, in a larger 700ml jar, but am yet to try it. I do want to make my own coconut yoghurt, so when I do I'll definitely share 🙂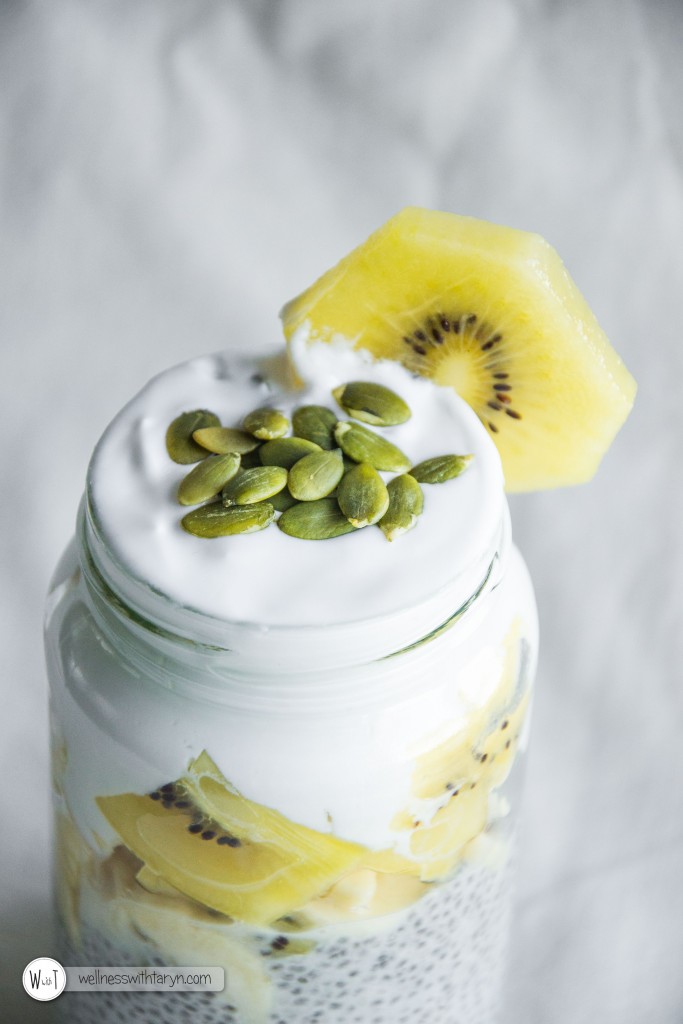 If your like me, and tend to steer clear from dairy in your diet, this is the perfect option if your looking for a breakfast that's rich in probiotics. The coconut yoghurt is enriched with good Acidophilus and Bifidobacterium probiotic cultures, ensuring a clean and healthy gut. I believe that health begins with a healthy gut, and by introducing more probiotic rich and fermented foods, you'll be sure to get your gut in tip top shape 🙂 So that it can do all the jobs it needs to do, perfectly.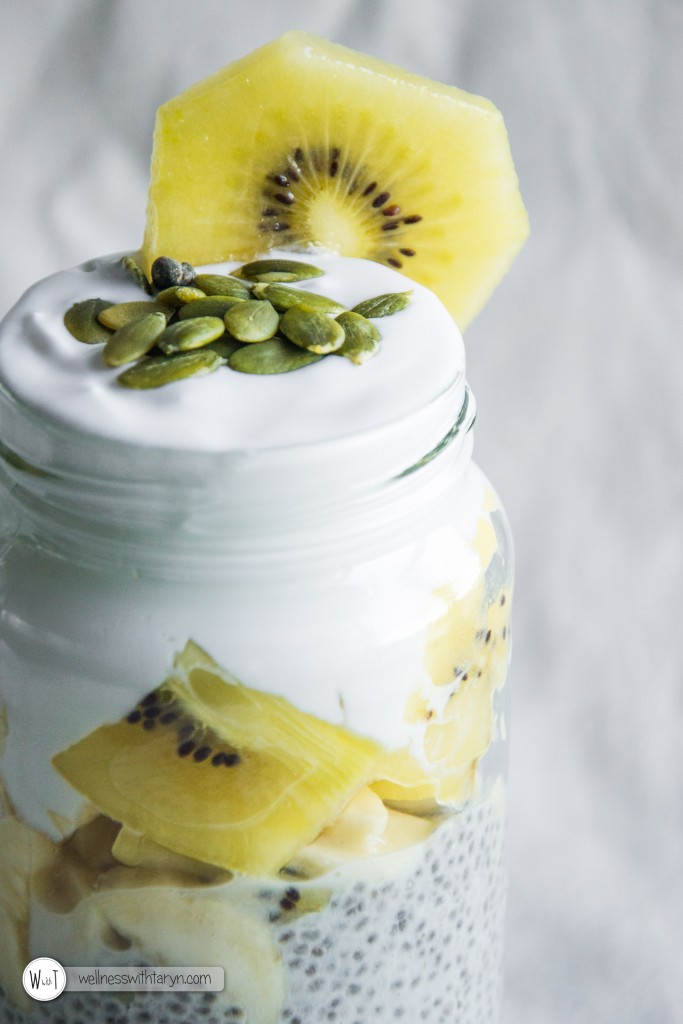 Chia Breakfast Jar
2015-06-30 06:51:35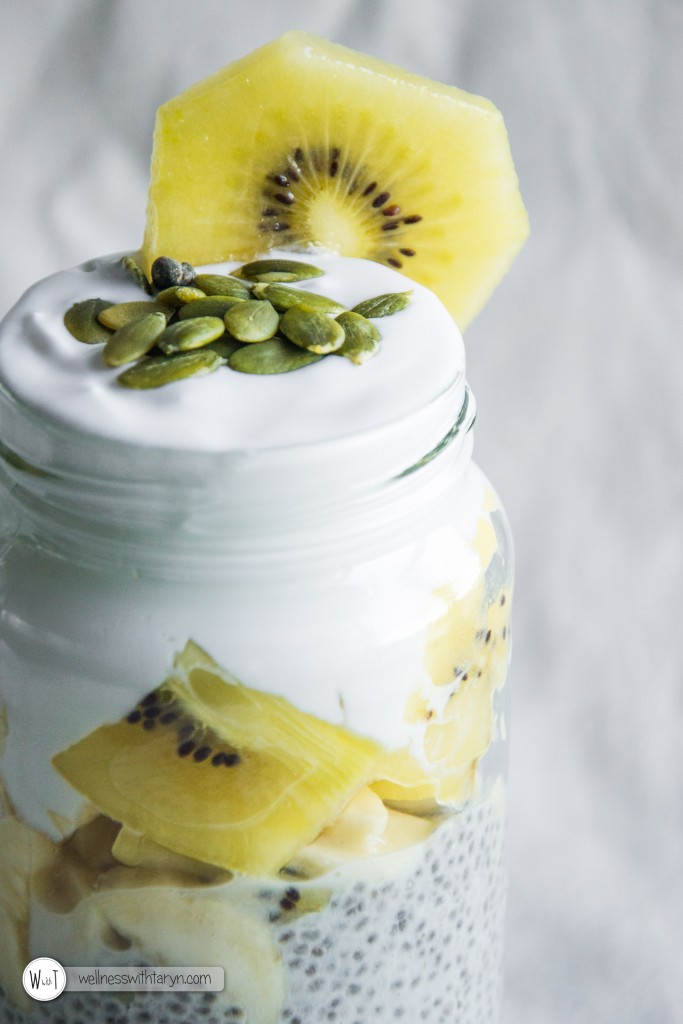 A super fulling delicious dairy free breakfast option that is packed with probiotics and fiber, ensuring a healthy gut and sustained energy release.
Ingredients
2 TBS Chia Seeds (Organic)
8-10 TBS Oat Milk ( Or dairy free milk of your choice)
1Tsp Vanilla Extract
1 Medium Banana
1 Golden Kiwi Fruit
1/3 Cup Dairy Free Coconut Yoghurt
Pinch of Pepitas/Pumpkin Seeds to garnish
Instructions
Start by placing the chia seeds in a seperate jar, and add the oat milk, stirring the mixture. I like to pop the lid on the jar and give it a real good shake to ensure there's no clumps of chia. Allow to set for approx 10-15mins.
You'll begin to see the chia mixture take shape, if it is too thick for your liking, add a bit more oat milk.
While the chia sets, chop up your fruit.
In a clear jar, add the chia mixture. Layer the chopped fruit next, and then top off with the coconut dairy free yoghurt. Pop in the fridge over night so that it's ready for the morning, or alternatively make it in 20 mins in the morning.
Garnish with pumpkin seeds and enjoy!
Wellness with Taryn http://wellnesswithtaryn.com/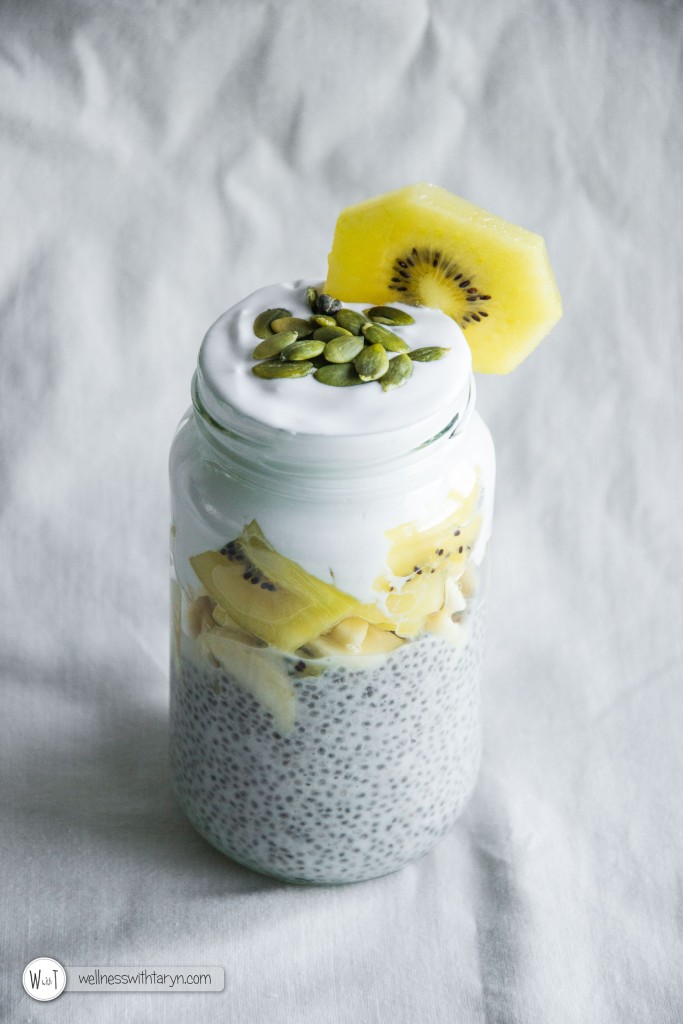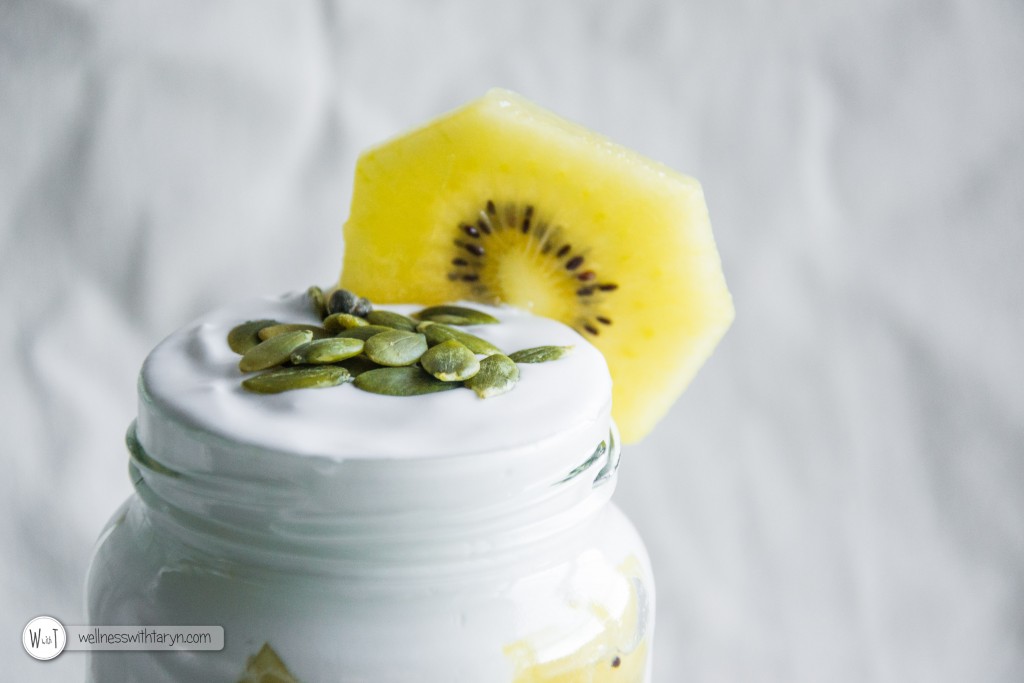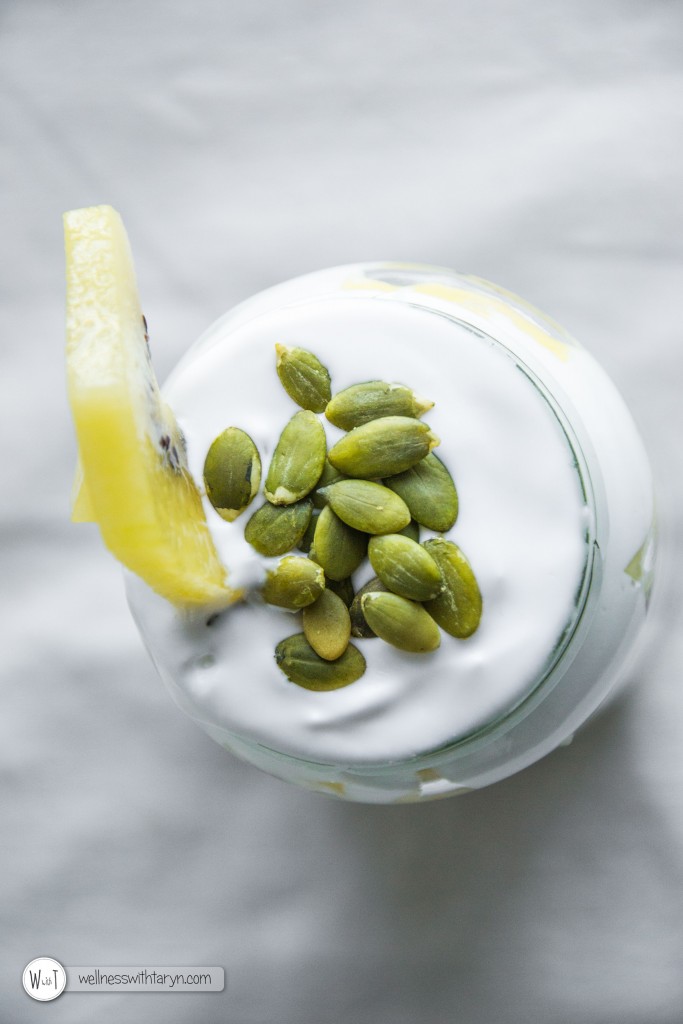 Enjoy my friends, and feel free to drop a comment below 🙂 Are there any specific recipes you'd like to see? Let me know 🙂