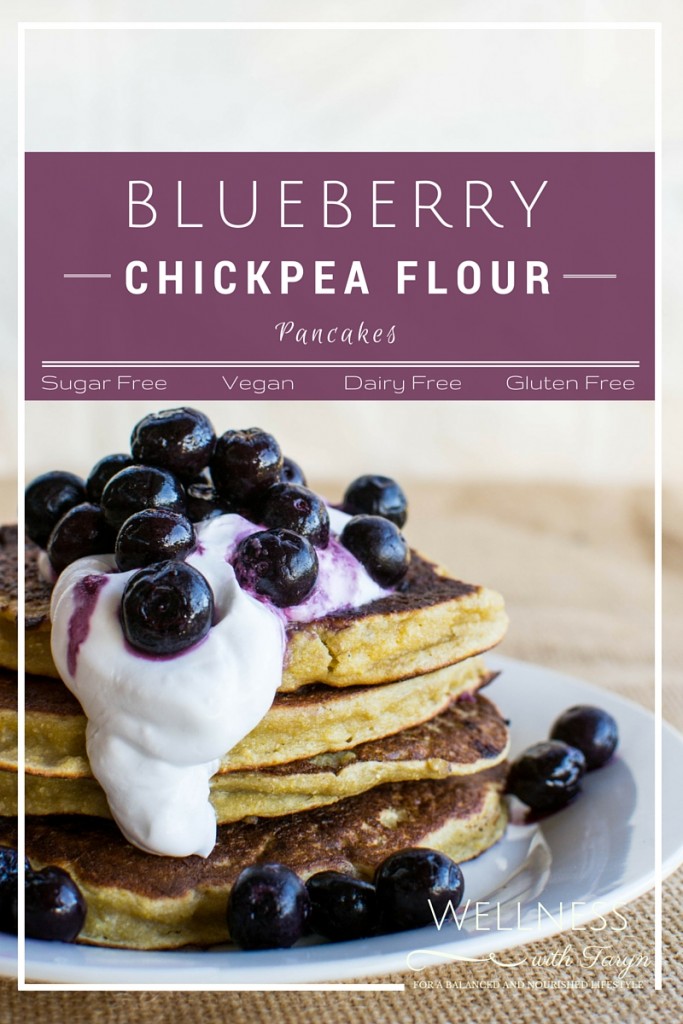 Sunday 31 July marks the 5th year I've been living thriving with Type 1 Diabetes (My Diaversary). It seems like just the other day I was embarking on my wellness journey, after being admitted into ICU and subsequently diagnosed with Type 1 Diabetes. What a journey it has been!
Although here I discuss my condition and while it is a serious subject, I wanted to balance this post by sharing this celebratory Blueberry Chickpea Flour Pancake recipe, that is truly so delicious!!!
These 5 years have been so full! Full of learning, full of managing, full of adapting, full of growing, full of life! Each day has unfolded with new challenges, which in turn have allowed me to grow so much! And for the most part I think this is evident in life, when you're constantly evolving, shifting. From one space in time to the next. It truly is an incredible process.
This journey hasn't been easy, and yet in a way it hasn't been hard. I think trying my best to remain in the moment has helped immensely. It's helped me not to stress about the past or worry about the future. I'm learning to remain present and focus on right now!
Living with Type 1 Diabetes
Living with Type 1 Diabetes doesn't only affect me. It has an impact on everyone around me, and I'm constantly grateful that I have a supportive network that includes my love, family, friends and professionals who make it that much easier to thrive.
Each day is different, and each day I learn more about myself. What things have an effect on me and which don't. Each day there are endless lists of 'thing's' I'm constantly thinking about:
Did I remember to have my 10pm

injection

Have I given myself the

correct dose

of insulin
Did I

calculate

those carbs correctly?
Do I have enough

insulin

on me for the day
Do I have enough testing strips and

needles

Did I eat enough breakfast
What is my

sugar level

Do I have enough

glucose tablets

incase of a hypo
How will eating 'this' effect my sugars?
Have I had enough lunch
Have I calculated in

exercise

for my dosage
Have I remembered to change

injection sites

I really need something for all the rough dry

needle prick marks

on my fingers from testing my blood sugar
And the list goes on and on and on …
So yes, living with Diabetes has it's ups and it's downs, and although I try hard to do the best that I can by eating a wholefood plant based vegan diet, eliminating processed sugar, gluten and processed foods, etc, I don't always get it right.
But slowly I've come to peace with that. That this journey is just that, a journey, and each day is different. I can eat and behave one way today and my sugars will be fine, and then do exactly the same the next day and they'll be all over the place. That unfortunately is just how Diabetes works. There are so many variables that take effect, and I'm learning not to beat myself up about not being the 'perfect diabetic', but rather priding myself on doing the best that I can.
Type 1 Diabetes and the Mind-Body Connection
I was recently reading this blog post on Type 1 Diabetes and the Mind-Body connection, and I have to agree with Jen! Since I've made the effort to connect with myself through mindfulness, yoga, meditation, positive thinking, gratitude journalling, self love (and a whole lot more), dealing with and managing my condition has been so much more acceptable.
So if there is anyone out there who has a condition that they're living with, and even those who don't, I want to reiterate how much mindfulness really does matter and how much it can change your life! By incorporating a few simple blissful practices into your daily life, you'll truly reap the benefits and your life will seem a lot more fuller! Now who doesn't want a bliss-FULL life? 😉
Now, back to business!!!! This post is rather serious so I wanted to celebrate the 'not-so-serious side' of my celebration with this fun and fantastic pancake recipe! These Blueberry Chickpea Flour Pancakes happened by accident, and let me tell you, was that the best accident I ever made!!!! I was craving pancakes, and didn't have any gluten free flour in the house, but managed to find some chickpea flour and Bing! Bang! Boom! Magic happened! Ha Ha! 🙂
These pancakes are loaded with plant protein from the chickpea flour (a whole 22g of protein per 100g). The addition of pureed steamed red apples into the batter, combined with the sweetness of the blueberries work so well together! A match made in heaven! The pancake itself is the perfect texture, just the right amount of firmness, and to top it off, the decadent creaminess of the coconut yoghurt is just so yum! This recipe is a winner, and is definitely one I'll be referring back to for many years to come!!!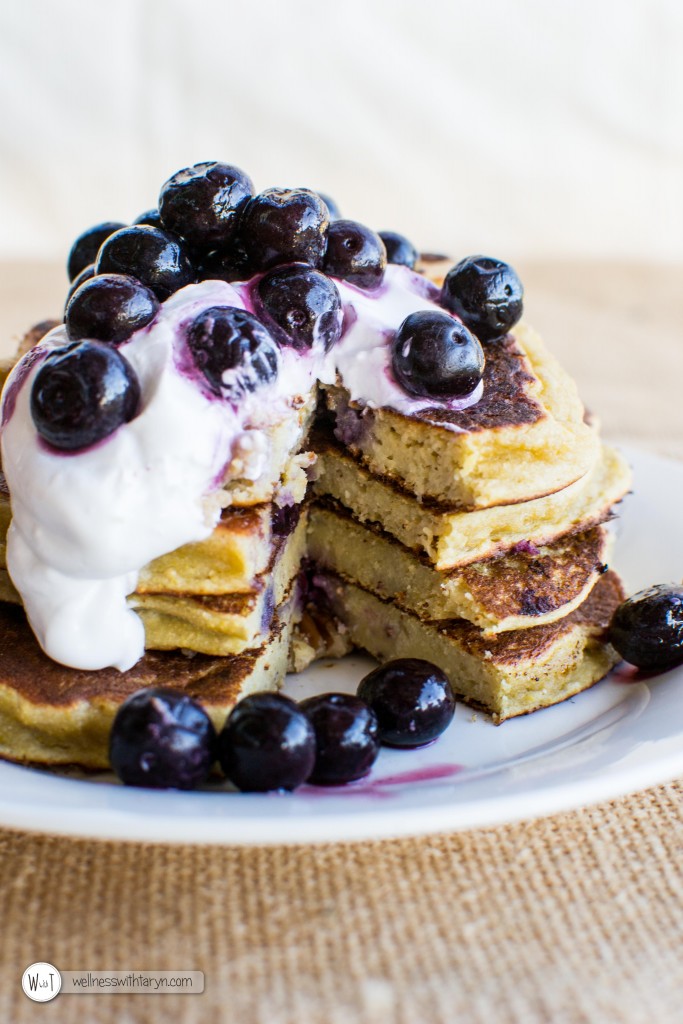 Blueberry Chickpea Flour Pancakes
2016-07-28 05:14:00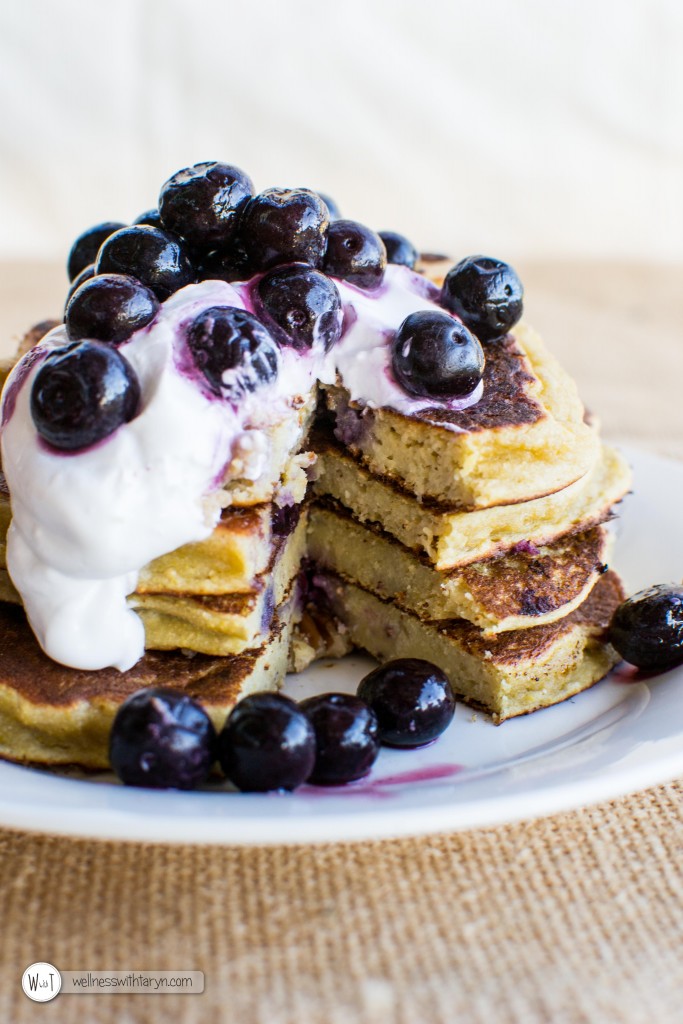 Serves 5
This delicious pancake recipe uses the protein packed chickpea flour as a base. Sweetened with pureed steamed apple, with a great textured base topped with creamy coconut yoghurt and sweet blueberries, it's definitely a winner!
Ingredients
2 Large Red Apples (Peeled, de-cored, steamed and pureed)
1/2 Cup Organic Chickpea Flour
1 Tsp Baking Powder
1/4 Tsp Himalayan Rock Salt
4 Tsp Coconut Oil (Melted)
1 Tsp Chia Seeds (in 4 TBS boiling water, left to swell)
1/2 Cup Frozen Blueberries
1/3 Cup Organic Non-Dairy Milk
1/3 Cup Coconut Yoghurt
Instructions
Peel and de-core your apples. Chop them into chunks and pop them into a steamer. Steam until soft.
Remove from steamer and place into a blender, puree until smooth.
Get your frozen blueberries out the freezer, and set aside allowing them to thaw out.
In a small bowl, place the chia seeds and boiling water and set aside leaving them to swell. This is the egg-replacement in the recipe.
Add the coconut oil to the puree mixture, as it's still warm it'll help the coconut oil melt.
In a mixing bowl, add the chickpea flour, baking powder and salt. Mix thoroughly.
Add the pureed apple mixture with the coconut oil, your choice of non-dairy plant milk and the frozen blueberries (leaving some for garnishing) and once the chia have swelled, add them too.
Mix together thoroughly until all combined. Now your mixture is done!
On a medium heat on a non stick pan, spoon out the mixture into the desired thickness and size you'd like. Once you begin to see bubbles on the top, which has become firm, flip the pancake to cook on the other side. Repeat until the mixture is finished.
Stack onto a plate and serve with the coconut yoghurt and garnish with blueberries.
Enjoy every single mouthful!
Notes
Use organic where possible
Wellness with Taryn http://wellnesswithtaryn.com/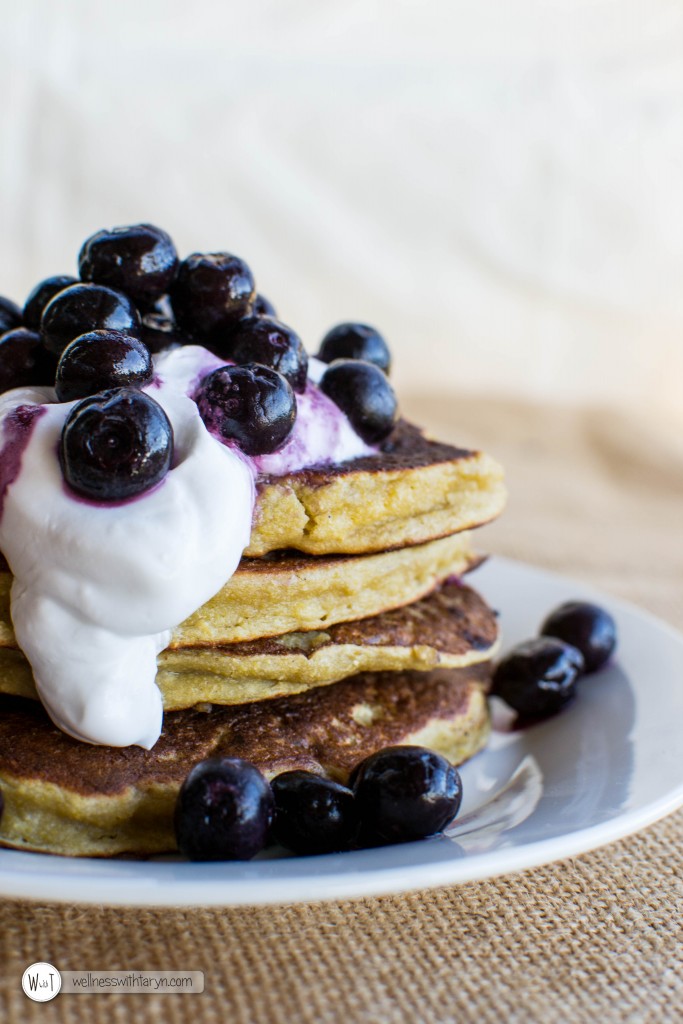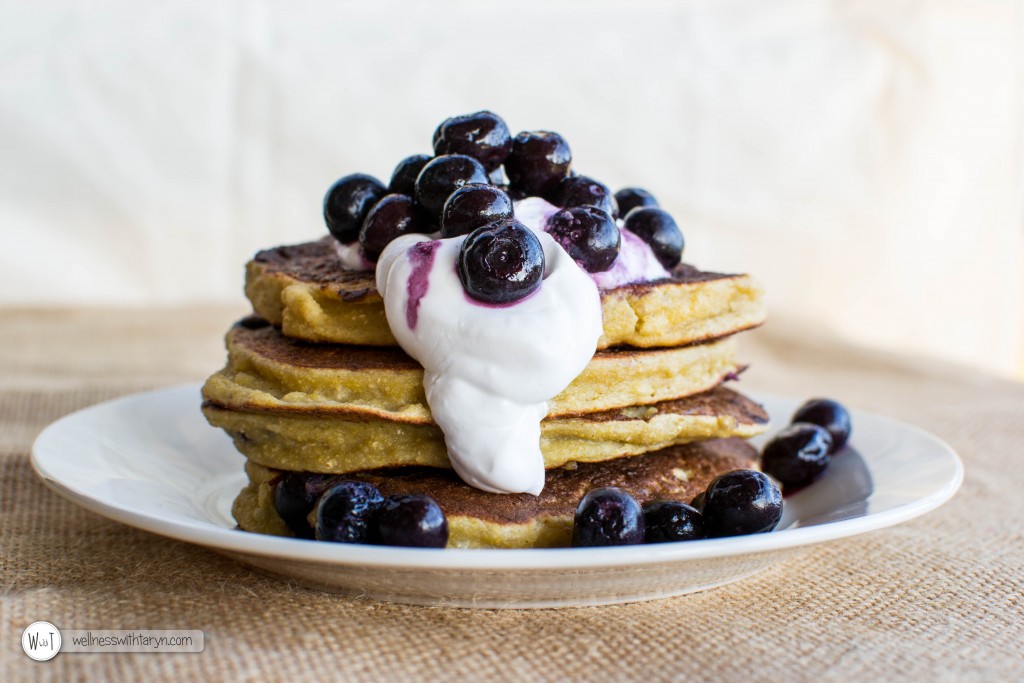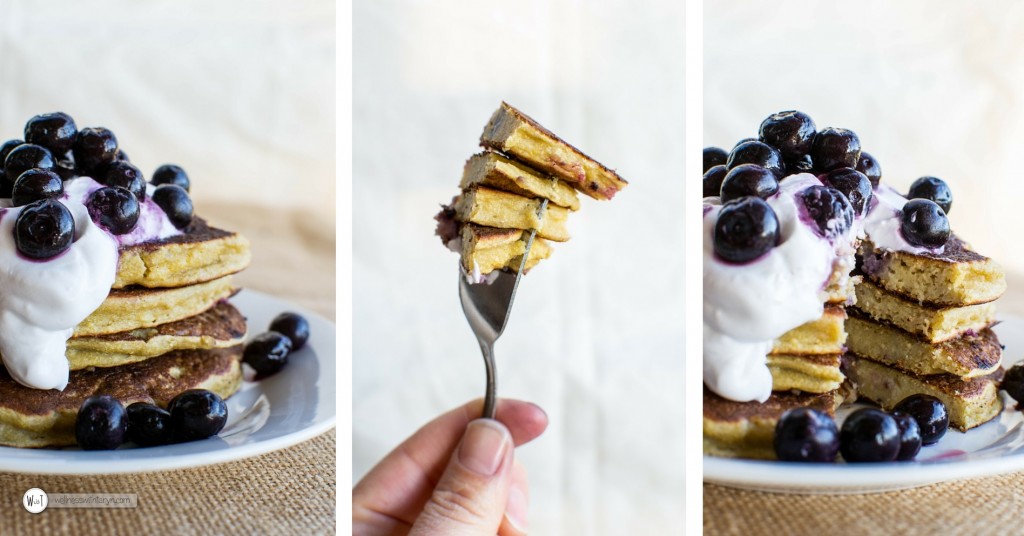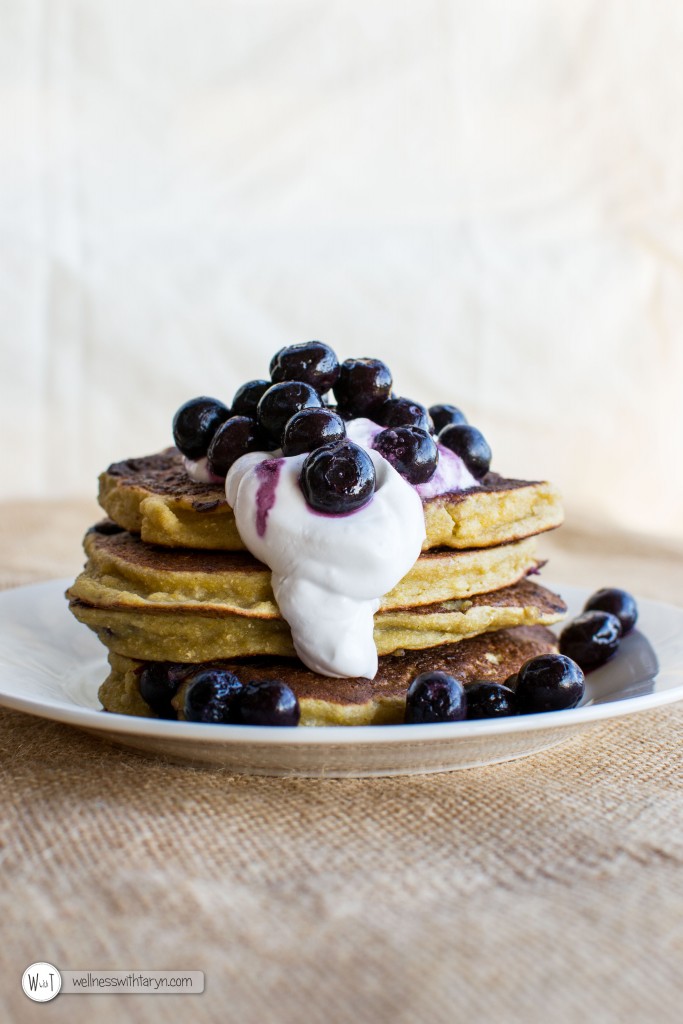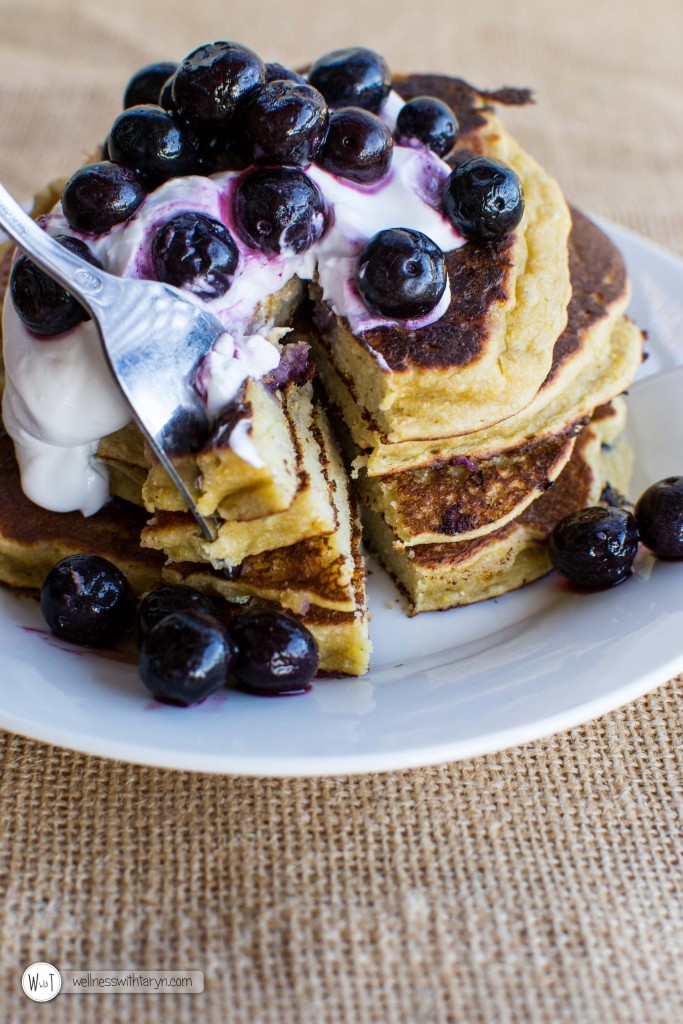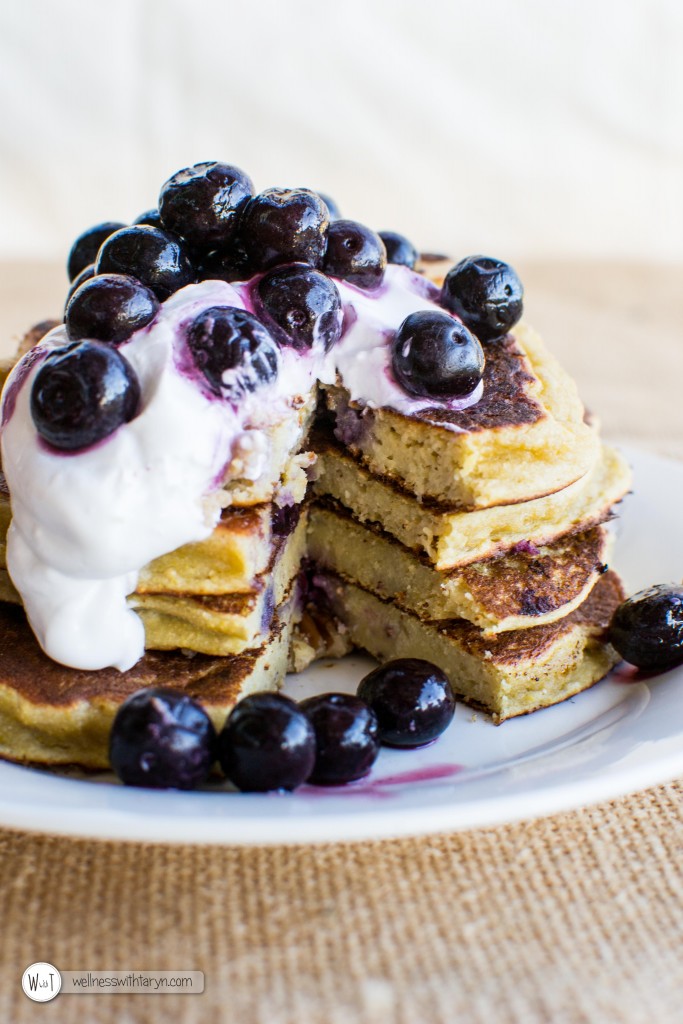 As always, I'd love to see your re-creations if you tag me @wellnesswithtaryn and remember to like and share with all your friends and family!