If you hadn't already noticed, I'm a massive fan of porridge. This vegan Banana Millet Porridge recipe definitely hits the spot! There's nothing quite so comforting as a warm, delicious bowl of porridge on chilly winters mornings, and boy! have we had a few of those here in Nelson, NZ. Opening the curtains to see the heavy snow capped mountains in the distance is my que to get the stove on and get cracking with a bowl of nourishing porridge.
My previous porridge post was Breakfast Banana Oats which is a delicious and satisfying recipe, but due to the gluten content on oats, I don't get into the habit of eating oats too often, well I try not to anyway 😉 I, myself, don't have any major reactions to gluten, but aside from oats, I tend to keep a gluten free diet. I can definitely feel a difference when I eat something with gluten in it, so for this reason I steer clear of it, with the exception of oats 😉
Now, this banana millet porridge recipe was inspired by my beautiful friend Kirsty of Kirsty Loves. She intrroduced me to the humble gluten free grain millet, and I've been hooked ever since. The recipe that inspired me was Kirsty's Warming Millet Goiji and Chia Power Porridge. I think inspiration from those closest to you is such a special thing, and now whenever I eat millet, I think of Kirsty 🙂 Being far away from my beautiful friends is incredibly difficult sometimes, so I find comfort in inspiration and memories associated with it 🙂 If you're looking for more beautiful inspiration, be sure to check out Kirsty Loves. I especially loved this post 🙂 Kirsty introduced me to the beautiful practice of Tri-Yoga, and it's on my wishlist to one day do a teachers training in this beautiful rhythmic flow of yoga 🙂
So, my trick in this recipe is adding banana while cooking the millet. I find the sweet cooked flavor of the banana really transforms the flavor and pairs really well with the somewhat nutty flavor. I also like this natural way of sweetening foods, but if you're not a fan of banana, a couple medjool dates would do the trick, and give the dish a caramel hint of flavor… oooohhh (another recipe idea sparks) This recipe isn't very complicated, and is rather basic, which is great if your looking for something simple yet delicious.
I've been using the Ceres Organic Hulled Millet, which has a bit more texture. Ceres Organics also do a ground Organic Millet Cereal, which is great if you prefer a smoother consistency.
I sometimes feel this modest grain is forgotten, and is known all to little by everyone. I'm not too sure why, as it's so delicious, is super affordable, and is so nutritious. Not only is it naturally gluten free and highly nutritious it's also one of the oldest foods known to man. It's healing benefits include:
Heart protective

properties as it's high in magnesium
Millet is alkaline and it

digests easily

It substantially lowers the risk of Type 2 Diabetes
Helps

prevent gallstones

as it's high in insoluble fiber. It speeds intestinal transit time and reduces the secretion of bile acids , which in excess can cause gallstones
Highly

protective against asthma

and

breast cancer

due to it being a whole grain and rich in fiber
Relatively

low glycemic index

and has been shown to

produce lower blood sugar levels

Connective tissue and bone strengthening as it is a

good source of silica
" It is considered to be one of the least allergenic and most digestible grains available. Millet is tasty with a mildly sweet, nut-like flavor. It is one of the five sacred crops by the ancient Chinese. Back then, the crop was so highly regarded that it was known as the 'grain of happiness'. The tiny, golden grain is nearly 15% protein, contains high amounts of fiber, B-complex vitamins and the minerals iron, magnesium, phosphorous and potassium. It also contains the amino acid tryptophan which helps regulate appetite, sleep and mood. Mild and nutty in taste, a quick toast in the pan lends millet a delicious cashew-like flavor. Its texture is easily adapted from creamy to fluffy to suit a variety of recipes. "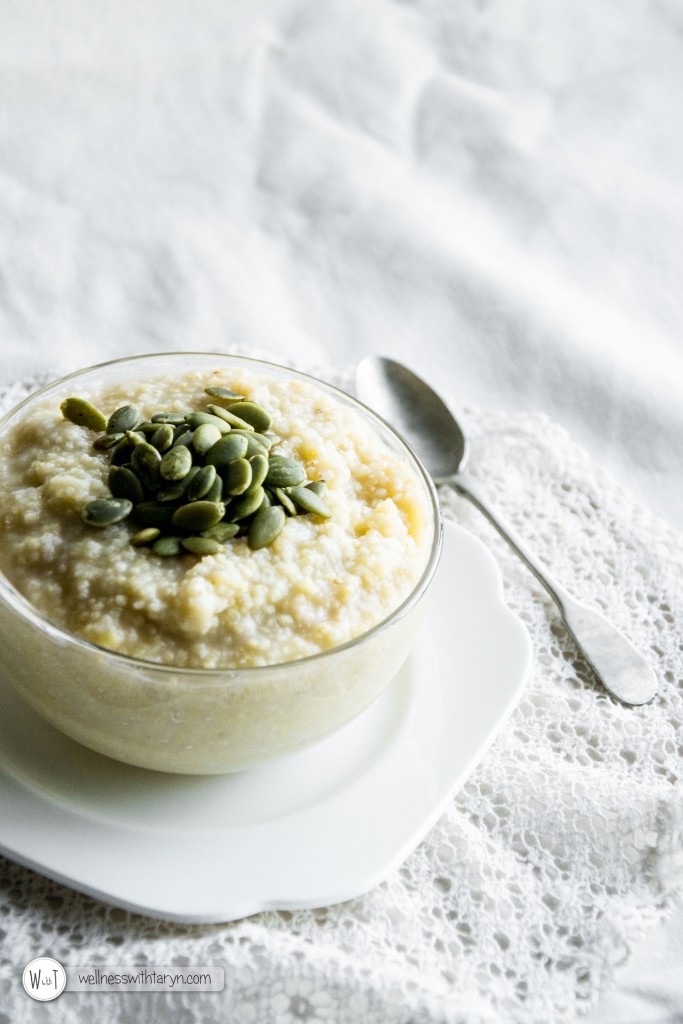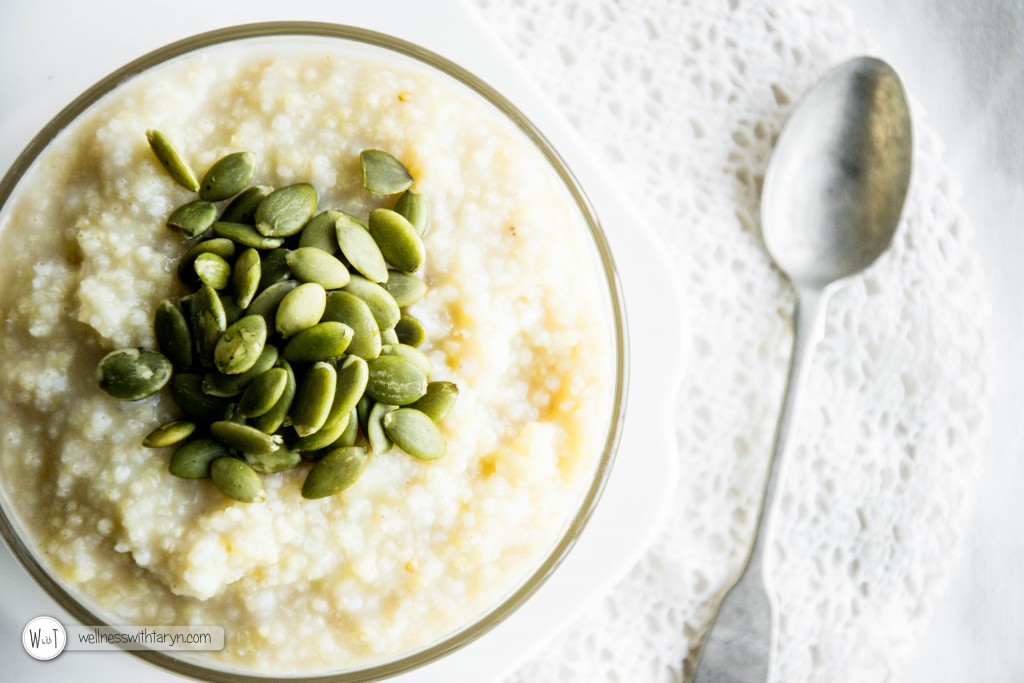 This is a really easy porridge recipe and is great for all peeps, big and small. You can get as adventurous as you choose with toppings, but for this particular recipe I added pumpkin seeds. I'm one for texture in my meals, and the crunchiness of the seeds does the trick for me. You can also add fresh fruit, nuts, other seeds (eg: chia), or whatever you have in your cupboard. Another really great option is to stir in a teaspoon of peanut butter! Oh-ma-gosh it's so good!!! Go wild! Have fun! and Enjoy!!! 🙂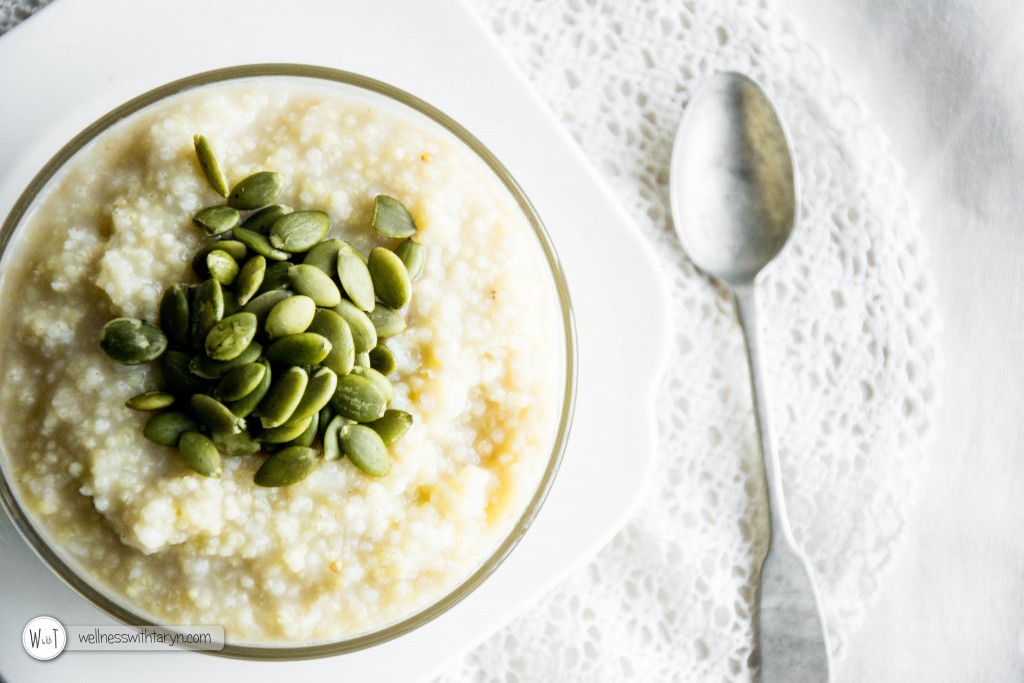 Banana Millet Porridge
2015-08-12 07:58:23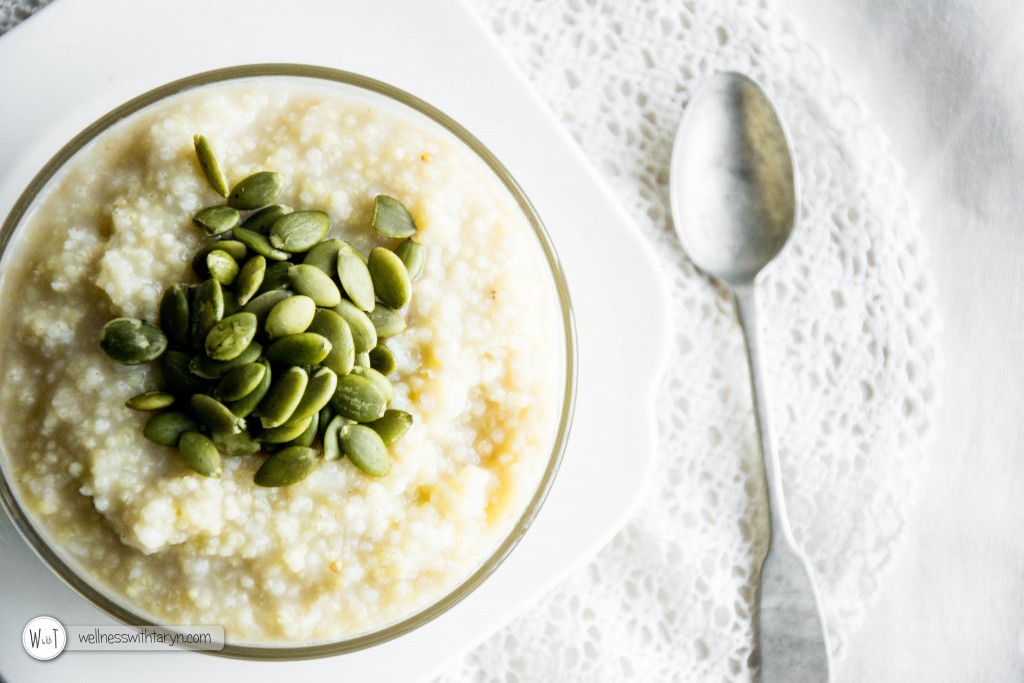 A delicious and simple gluten free porridge recipe that is wholesome and nourishing.
Ingredients
PORRIDGE
1/4 Cup Organic Hulled Millet
1 Cup Water
1/2 Tsp Himalayan Salt
1/2 Tsp Vanilla Extract
1/2 Tsp Cinnamon
1 Banana ( Peeled and chopped)
1 Tsp Coconut Oil
TOPPINGS
Pumpkin Seeds ( Optional: Fresh Fruit, Chia Seeds, Nuts and Seeds)
Instructions
Bring one cup of water to the boil in a small pot.
Rinse and drain your millet in a fine mesh strainer. Add to the boiling water and reduce heat to medium. Add the salt, vanilla extract and cinnamon.
Allow to cook for 5-7 mins.
Add chopped banana once the millet has absorbed all the water. If the mixture gets a bit chunky, gradually add more water until you've reached a desired consistency.
Once cooked, stir in a teaspoon of coconut oil.
Garnish with your choice of toppings and serve.
Wellness with Taryn http://wellnesswithtaryn.com/
As always, hope you enjoy and let me know if the comments what you thought if you do decide to try it out 🙂