It has been getting rather chilly here in Nelson, New Zealand. Growing up on a farm way out in the Dargle, South Africa, you'd think the cold would have little affect on me. I suppose I'm just a little bit of a wimp these days, brrrrrrr!!!!! Warm baths, comfy PJ's and lots of cuddles definitely help, but so does a delicious warming meal followed by and even better warming and satisfying healthy dessert. What better way to end of a chilly evening, with a bowl of this delicious apple and sunflower seed crumble!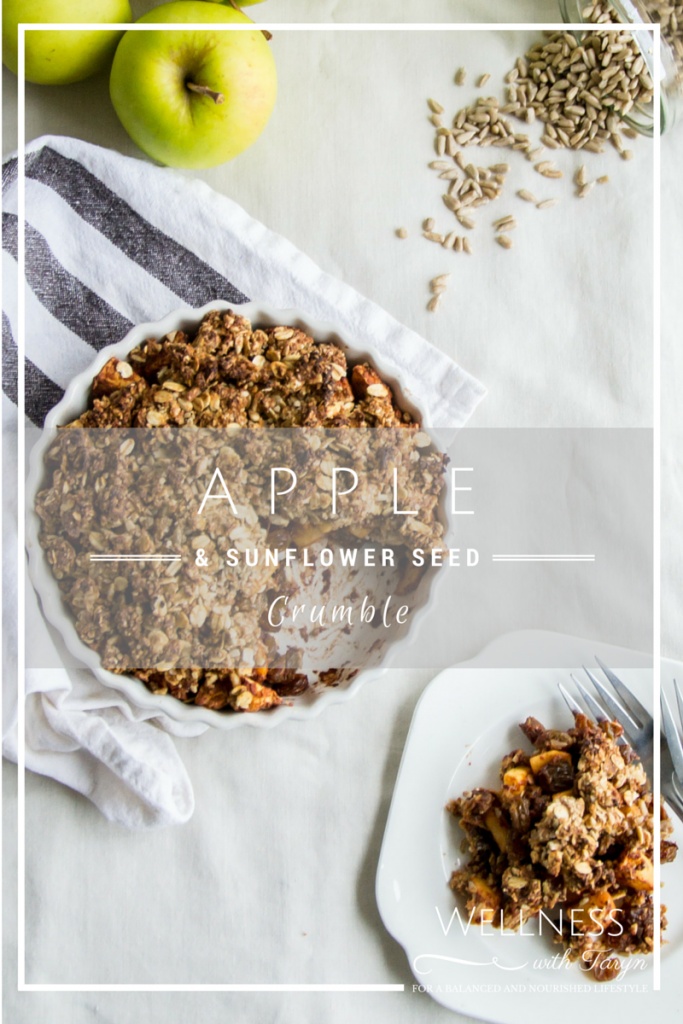 Apple and cinnamon are a flavor match made in heaven! The tart sweetness of the apple compliments the intense aromatics of the cinnamon, leaving a sensation of a warm winters sun dancing on the taste buds. Ha! May have gotten a little carried away there, but you get the jyst of what I'm trying to say! It's pretty damn life changing! I love combining cinnamon with sweeter (natural sweetness of course) dishes as it helps reduce blood sugar, which is a bonus for us "Oh! So! Sugar Sensitive" diabetics 🙂
It's actually a pretty basic pud, that really packs a punch in the flavor department. With only few ingredients, and a little work, this dessert really does pay off, and it's easy on the purse, which is an added bonus!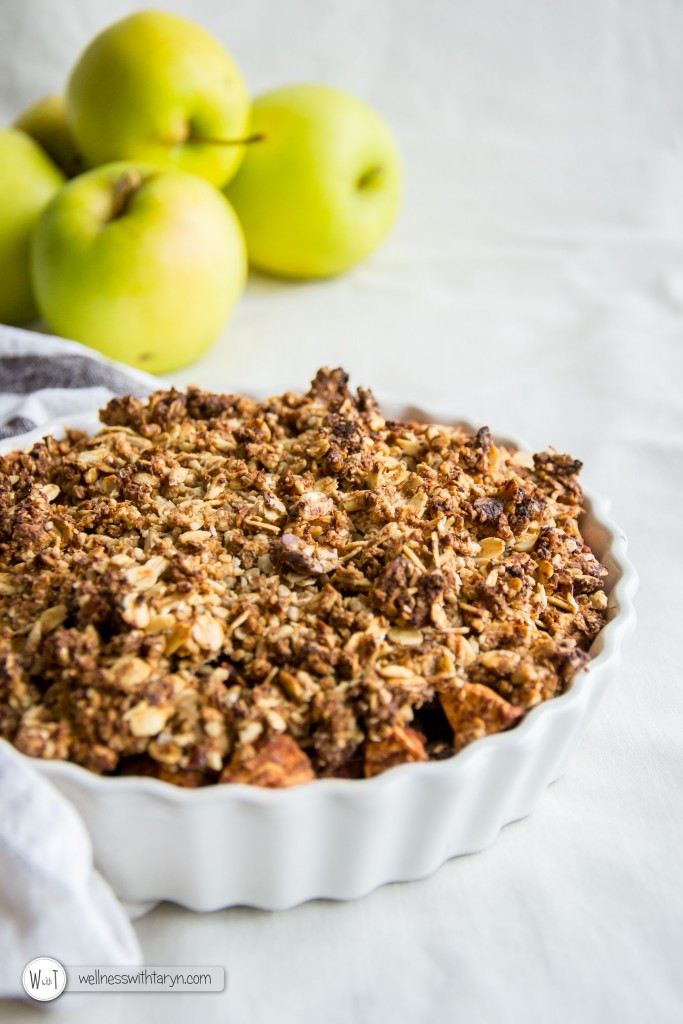 Now, let's not forget about the humble apple! We all know that an apple a day keeps the doctor away, but how good are apples for us actually? Well, let's find out!
An apple packs in a substantial amount of soluble fiber (which absorbs liquid and creates a gel like substance. This slows down digestion and delays the emptying of your stomach and makes you feel full, which helps control weight). An example of this is the nutrient pectin, which helps prevent cholesterol from building up in the lining of blood vessels, and in turn helps prevent atherosclerosis and heart disease. Apples are also super high in Vitamin C, which is located close under the skin, so don't discard the skins when you've peeled your apples. I use my skins as snacks. Cover with a little lemon juice, to stop them from turning brown, and a pinch of cinnamon and happy munching.
The phytonutrients in apples can also help you regulate your blood sugar, which is great for diabetics. Apples are also high in polyphenols, which function as antioxidants, and can help prevent spikes in blood sugar. So that combined with the blood sugar balancing properties of cinnamon, this dessert is really perfectly suited for diabetics, and everyone else as well!
For this delicious recipe, I visited the Wednesday Market in Nelson, where I purchased the yummiest golden delicious apples from the apple stand. Again, buy local and organic where possible, support local business and reduce carbon footprint!
Apple and Sunflower Seed Crumble
2015-06-01 04:03:38
A delicious recipe that is well suited for Diabetics, but is great for the whole family.
Ingredients
FILLING
3 Medium Golden Delicious Apples (peeled & diced into cubes)
2 Tsp Cinnamon (good quality)
1/4 Cup Golden Raisins/Sultanas
Juice of 1/2 a Lemon
Pinch of Himalayan Salt
CRUMBLE
1/4 Cup Sunflower Seeds (blitzed in food processor)
2 TBS Rolled Oats
2 TBS Spelt Flour
1 TBS Date Paste (reduced dates in a little water)
1/2 Tsp Cinnamon
1 Tsp Coconut Oil (melted)
1/4 Tsp Himalayan Salt
Instructions
Peel and dice your apples and pop them into a steamer to slightly steam. This just helps to reduce cooking time, and to ensure they're super cooked and gooey in the end.
Once slightly steamed, place into a bowl, and add the remaining filling ingredients. Mix well ensuring the apples are thoroughly coated in cinnamon.
Place this mixture into a greased (with coconut oil) baking dish. I used a 16cm/6.5" dish.
Now for the crumble, add your sunflower seeds into a food processor and blitz for around 30 sec.
Add into a large mixing bowl. with the remaining crumble ingredients.
For the date paste, add dates into a small sauce pan with a little water, and allow to simmer and reduce until a thick paste is formed, adding small amounts of water to help reduce.
Using your hands, mix all the ingredients and crumble the mixture between your fingers and thumb. Once all combined and crumbled, scatter evenly over the apple filling.
Bake in a fan oven @ 160 degrees for 30 mins, or until golden brown.
Notes
For a larger batch, double the ingredients accordingly. I used a 16cm/6.5" baking dish.
Wellness with Taryn http://wellnesswithtaryn.com/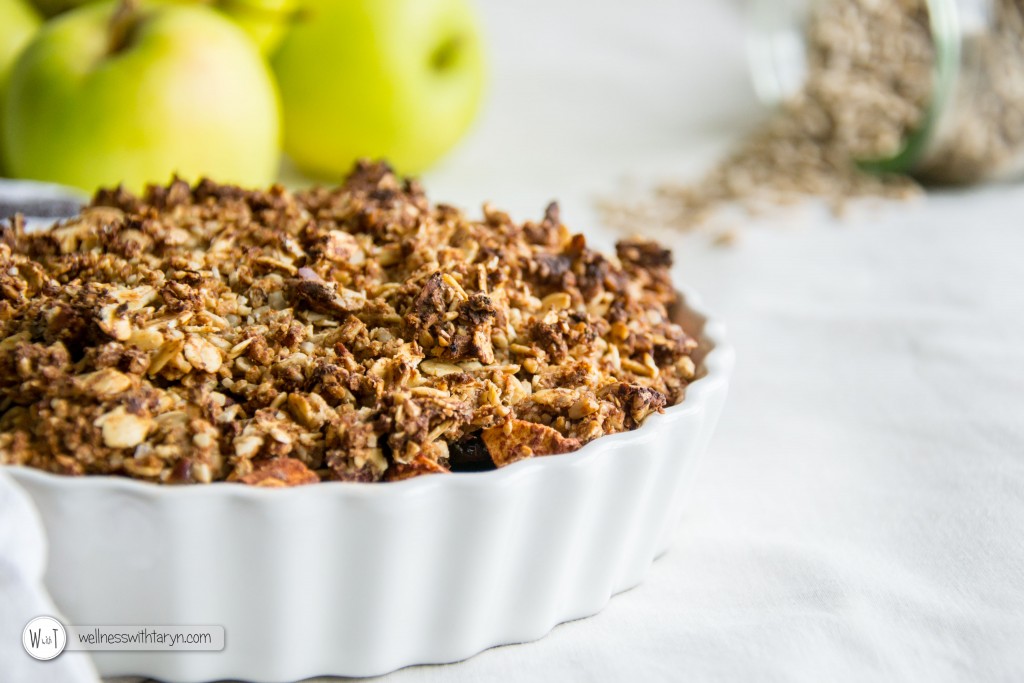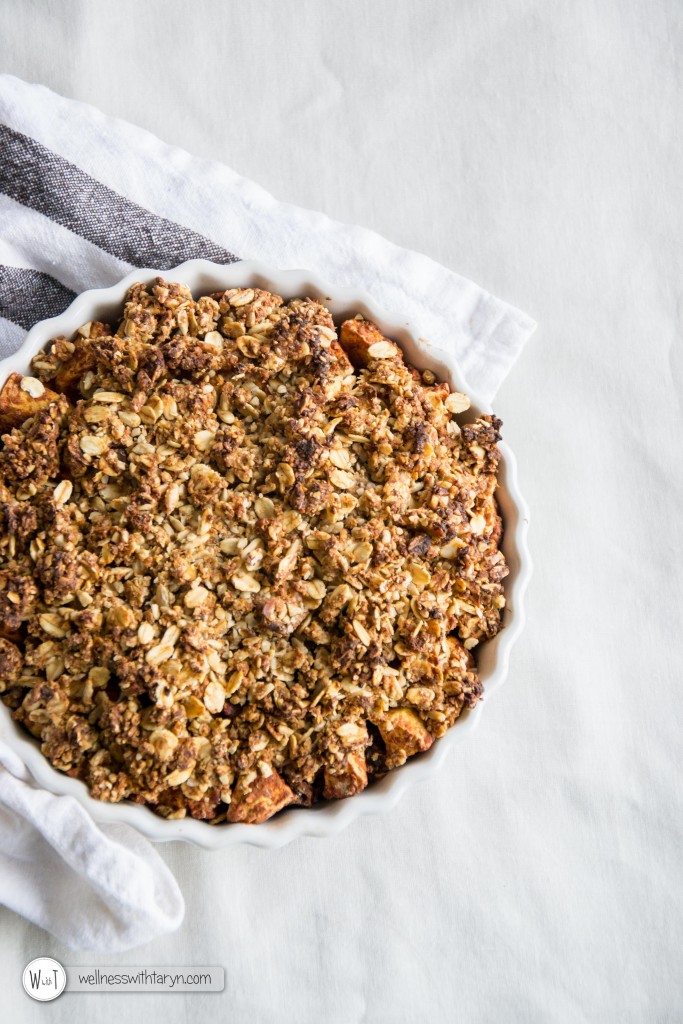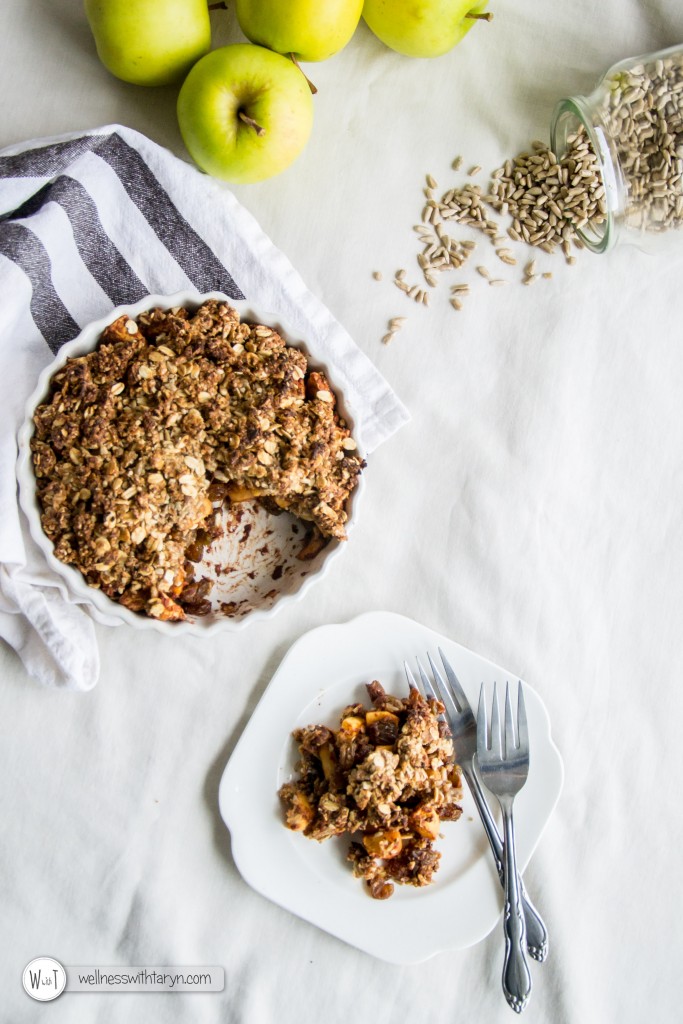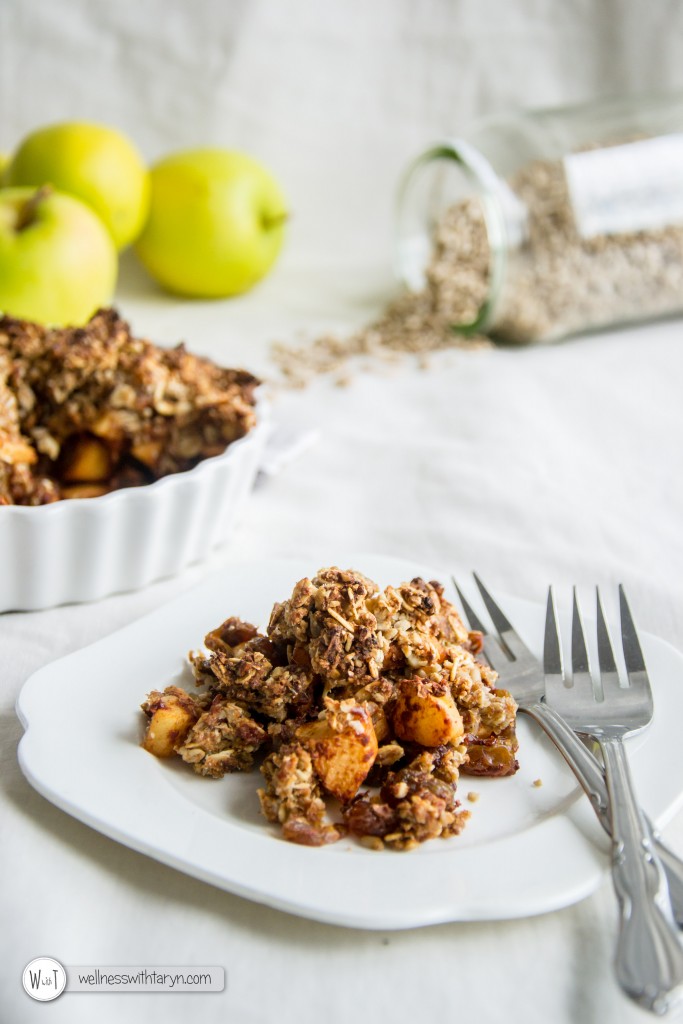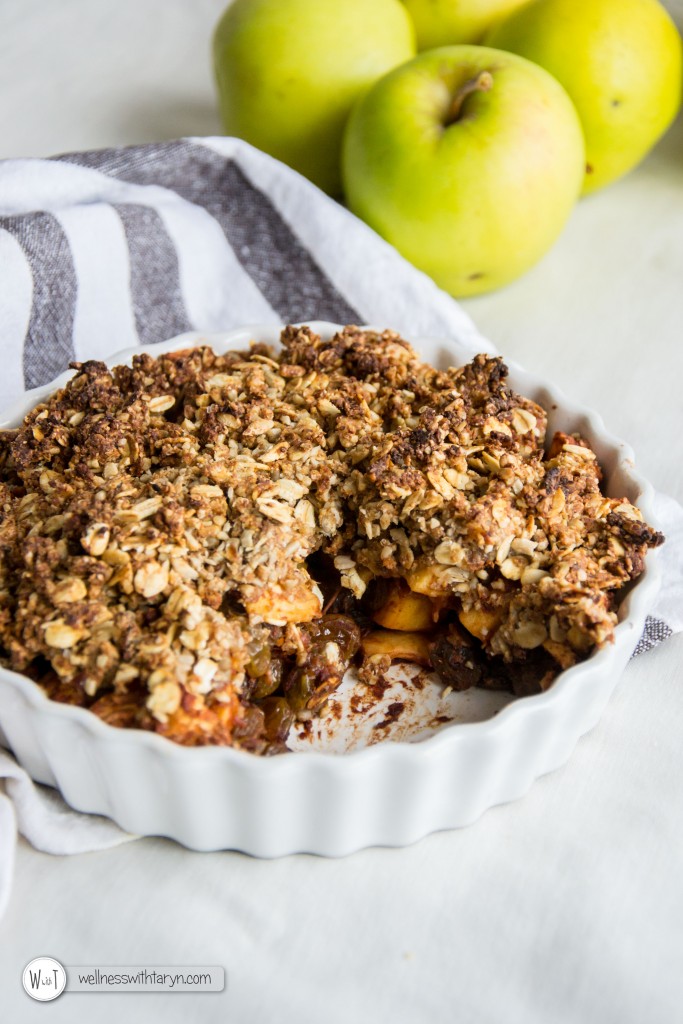 I really hope this recipe tickled your fancy and you'll give it a go. If you do, let me know what you thought by leaving a comment below. If there's any other delicious healthy recreations you'd like to see on here, let me know!