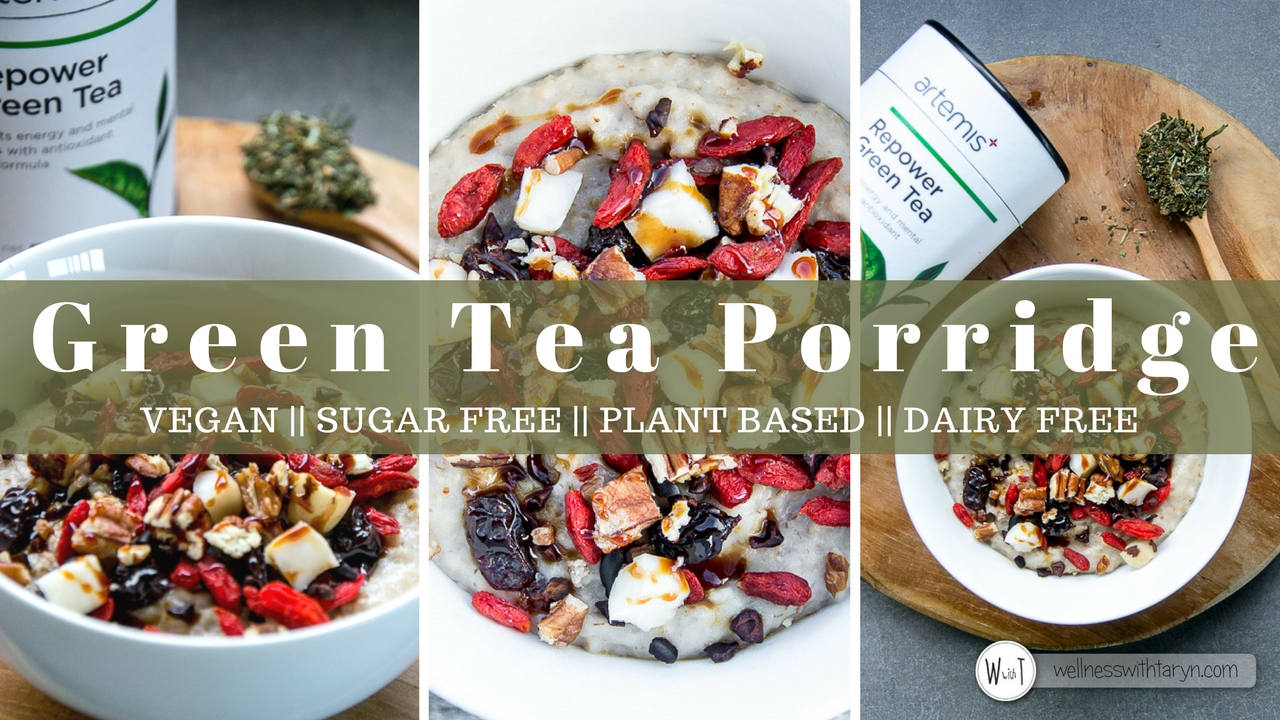 I must admit, I was a bit apprehensive about this recipe, and how it would turn out. The thought of combining green tea with porridge did seem rather strange, but my curiosity got the better of me and I'm so glad it did. I was so lucky enough to receive this Repower Green Tea from Artemis, and that was it! Inspiration levels were high and the ball began rolling in the direction of a recipe success!
I've loved green tea from the first time I tasted it, and I believe it really helped to boost my metabolism and curb my taste buds when I initially started my health journey. It would be my go to drink wherever we were. A substitute that would be my crutch, contributing to my health at the same time. This Antioxidant Green Tea Porridge recipe brought back all those memories, and reminded me of how strong willed I was. These day's I'm a little loose around the reigns, but slowly am tightening them back up.
Recently I've been thinking about the phases we tend to flow through in life. Perhaps linked with the moon, stars and planets and all their movements. In a small way I feel I've come full circle in this journey of health and wellness, and strangely it feels like I'm back at the beginning. Maybe with a bit more knowledge than previously, but still it kinda feels like I'm at the start again. Is this completely crazy? Am I crazy? Perhaps, but non-the-less, I'm feeling the excitement I felt right at the beginning when all of this was new and my strength and will to change was substantial and impenetrable.
These phases we all go through, whether we are aware of them or not, I believe, can be such great teachers. They can allow us to reflect and see how far we've come. How much we've been through and also get us excited about new beginnings and chapters in our lives.
Now onto this surprisingly delicious recipe, and one I hope you'll enjoy too. I was surprised as to how much of the flavor from the green tea infused into the porridge. This Artemis tea really is so vibrantly full of flavor, it starred so beautifully in this recipe, although any loose green tea will do.
Delicately brewed loose green tea slowly cooked with organic wholesome oats, topped with antioxidant rich toppings, fueling you for your day ahead. So what are antioxidants and what makes them so good for you?
Health Benefits of Antioxidants
Antioxidants are the powerful components in foods that neutralize harmful free radicals in the body. Through lessening or preventing the process of molecule oxidation, we reduce the amount of free-radicals (harmful cellular bi-products) in our system.
Free radicals are dangerous to our health because they are responsible for cellular destruction. Free radicals create unhealthy cells and cause other general forms of oxidative damage. Many of today's "degenerative diseases," such as cancer and heart-disease, are linked to increased free-radical exposure. All of us have a normal amount of free-radicals in the body at any given time, and antioxidants facilitate keeping that number in a healthy range.
Studies show that anti-oxidant rich food can actually help to increase our life-span, as well as slow the signs of aging. Many people report feeling a glowing quality to their skin, mental well-being, and an overall increase in energy levels when they eat more antioxidant-rich foods. Antioxidants also act as enzymes to support your body's natural processes, such as digestion and cellular repair. Some common forms of antioxidants in the foods we eat include beta-carotene, Vitamin C, Vitamin A, glutathione, selenium, vitamin E, lutein, melatonin, coenzyme Q-10, alpha lipoic acid and polyphenols such as resveratrol and citrus bioflavonoids.
Source
Antioxidants and Green Tea
Green tea undergoes the least amount of processing, which involves oxidation, and has the highest antioxidant content. The active antioxidants are the polyphenols, including tannins and flavonoids. Green tea polyphenols also have anti-inflammatory and antimutagenic actions, which make them useful for inflammatory diseases and protective of DNA. Source
Repower Green Tea is traditional plant medicine to boost your energy. Especially when tired or stressed. The complex formula supports circulation to the brain and nourishes your nervous system. Green Tea has a vitalizing action due to the small amount of caffeine it contains. Yet it has a unique, long-lasting energy effect, unlike coffee or sugar. Repower Green Tea is an excellent way to increase your daily dose of antioxidants. Source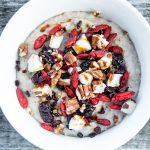 Antioxidant Green Tea Porridge
A delicious breakfast option loaded with all the goodness of green tea. Slowly infused and full of flavor topped with an array of antioxidant rich toppings. A great way to start your day.
Ingredients
Porridge
1

tsp

Repower Green Tea

- or your favorite loose green tea

1/3

Cup

Boiling water

1/3

Cup

Organic Almond Milk

1/3

Cup

Organic Rolled Oats
Toppings
Organic Raisins

Goji Berries

Cacao Nibs

Brazil Nuts

Pecan Nuts

Organic Date Syrup
Instructions
Add the loose tea to a tea infuser, and allow to steep in the boiling water for 3 minutes

In a small saucepan, add the oats and almond milk and the steeped green tea. Bring to bubble on a med-high heat.

Reduce to a medium heat and cook for 3-5 minutes

Serve in a bowl and top with the toppings mentioned above. Sweeten with Organic date syrup or sweetener of your choice
Recipe Notes
Use Organic wherever possible - Use your favorite loose green tea in place of the Repower Green Tea if you are unable to get it - Gluten free oats are always an option if you can get your hands on some
I do hope you enjoy this recipe, and be sure to let me know if you try it out @wellnesswithtaryn. Have you ever tried making porridge with tea infusions?